The Chola Temples are located in Tamil Nadu, a southern state in India.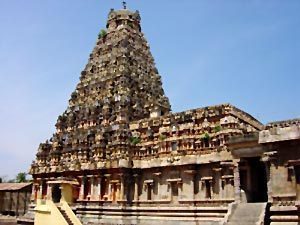 These temples were constructed during the rule of the Chola's in the southern section of the country. They were patrons and great lovers of art during their reign. This passion for art is expressed in the very design of the temples that were constructed during their reign.
Brihadisvara Temple
This is one of the three Chola temples constructed during the 11th and 12th centuries. The Brihadisvara Temple was constructed under the direction of Rajaraja who was the current emperor at the time. The temple itself was designed by famed architect Sama Varma. It was constructed out of bricks and granite.
It has a sanctum tower called a vimana that stands up to 65 meters tall, which crowns the other structures. The Brihadisvara Temple itself was constructed in the middle of a fort to provide protection. Its vimanam is 200 feet tall and is otherwise known as Dakshina Meru.
The Brihadisvara Temple is enclosed by a pyramidal tower that is 13 stories tall. The temple itself has an inner prakara measuring 240.9 meters from east to west and 122 meters from north to south. Two-storey Parivaralayas and malikas surround this inner prakara. You'll also find huge guardian statues in this area.
Gangaikondacholisvaram Temple
The Gangaikondacholisvaram Temple is another Chola Temple that was built in the same era. It was built by the son of Rajaraja, Rajendra I, in 1035 A.D. It is fashioned with a 53 meter vimana that contrasts a nearby tower. The temple is often described as feminine due to its curving graceful design.
The Chandikesvara shire is located at the northern steps. To the northeast you'll find a lion figure guarding a well, which is also called simhakeni or lion well. On the eastern side of the main shrine you'll find the entry tower. The main tower represents the emperor while the surrounding smaller shrines represent the local chieftains.
Airavatesvara Temple
This Chola Temple was built by Rajaraja II and was dedicated to the worship of Shiva. It was built in the town of Darasuram near the state of Tamil Nadu. The temple features monoliths that guard the entrances. It also has a vimana that stands at 24 meters. Alongside this tall structure is an image of Shiva carved in stone.
A visit to the Airavatesvara Temple will demonstrate the Cholas love for art. The architecture here is quite pronounced and complements the various pieces of art. You'll find paintings, sculptures, and even bronze castings. Among the Chola Temples, this one is considered as the storehouse of various pieces of architecture and art.