Wines make for perfect collections.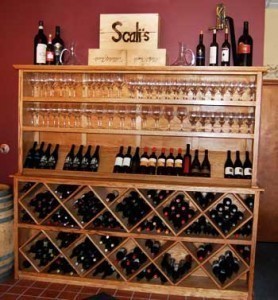 For the serious wine collector, a wine rack is of utter importance. Anyone's wine collection would be nothing if it is not stuffed into a nice, slick wine rack. Getting a wine rack for your wine collection is important not only to provide a storage space for the number of bottles you are able to collect but also to preserve the quality of your wines.
Wine Rack Sizes
There are many different wine rack sizes available in the market. Choosing what suits your need depends on how many bottles you currently possess and how much more you plan to collect. It is also important when choosing wine rack sizes to consider the amount of space you have for it.
Wine rack sizes vary according to the capacity. There are wine racks that can only accommodate four bottles while the really huge ones can stuff in over a hundred bottles. It is wise not to get a wine rack that is too big or too small for your collection. Choose one that is but right.
For example, a 24-bottle wine rack that has four rows should have a side height of 62 inches. If you feel that this size is just right to stuff your collection and it also fits to the amount of space you have, you must shop for this kind and consider the other facets later on.
Wine Rack Designs
Wine racks also come in different styles and designs. There are types that can be mounted under counter while there are also wine racks that can stand alone. For kitchens that are limited in space, an under counter wine rack may be suitable. If you can expend a bigger space for your wine rack, on the other hand, you can buy stand alone wine racks that can also serve as a nice display that could accentuate your space.
Choosing your Wine Rack
When shopping for a wine rack, it is important that you single out your need, your taste, and your budget. Again, it would not be wise to get a wine rack that may be too small or too big for your need. It is also none sense to buy a wooden wine rack when you need a stainless steel one. Look around the space you intend to place the wine rack. See what will mix into the current design and choose the appropriate wine rack. Wine racks also come with different price tags. If you are a wise shopper, it should not be difficult to find an affordable one that is nothing short of what you like.