Looking for wheelbarrow dimensions that would suit most load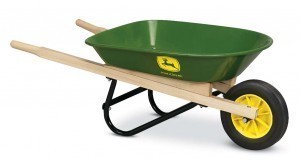 carrying jobs? Here are some wheelbarrow sizes to consider with some of the latest features on modern wheelbarrows.
Frame
Sturdy and durable wheelbarrows have powerful frames. As some folks in the carpentry and masonry job would say, it's all in the frame. Before settling on wide wheelbarrow sizes, consider first the make of the frame. Look for those with steel or aluminum frames with extra supporting studs underneath for extra strength. Check out the back brace and steel nose piece. Carriage bolt wheelbarrow dimensions should be at least 8 pieces of 3/8-inche machine bolts with two pieces of 3/8-inch U- bolts.
Volume, Size, and Weight
Common wheelbarrow dimensions that enable wheelbarrows to perform well in load-carrying jobs are the following: They have a 7.75 cubic feet capacity, weigh 53 pounds, and are often sized 63.5 (length) x 28 (width) x 30 (height) inches. Consider also those with a volume capacity of 6.75 cubic feet weighing 52 pounds. Wheelbarrow sizes near these measurements are dependable for transporting medium-size construction work loads.
Wheel, Bearings, and Hubs
Opt for wheel tires with studs and tube. Tires with 4 plies measuring 16 inches are often adequate for heavy-duty work. For all wheelbarrow sizes, choose steel wheel hubs with heavy duty gauge. Look for shaft collars and axle with 1-inch size. Huge wheelbarrow dimensions should have accurately engineered and sealed bearings, preferably with gauge 6205.
The Tray
A strong framed wheelbarrow should also have a strong tray over the frame. The ideal is a polyethylene tray, 3/8-inch thick, with shape and concaveness not too deep or too shallow. Make sure the tray is properly attached to the frame with bolts or by welded joints.
Special Features to Look For
Steel handles of wheelbarrows should have foam grips wrapped in leather. Tires should be puncture resistant. The 3/8-inch plated bolts should be fitted with flanged locknuts for better secured fittings. To keep the wheelbarrow balanced, opt for those with wide-stance legs. Always opt for those designed for carrying bricks and cement blocks indicated in the specifications.
Shoulder Width Handles
Look for wheelbarrows with handles set right for the user's shoulder width. Anything wider or narrower can make the job harder for the user. Thus, wheelbarrow sizes should be appropriate for the size of the person or persons using the equipment for more ease.
Handle and Leg Elevation
The handle and legs should be properly angled from the wheel axle. An angle of about 30 degrees should be ideal so that the handle and the legs are not too low.