Size and Dimensions of A Queen Size Mattress
A tape measure will show you that the size of a queen mattress is 60 x 80 inches.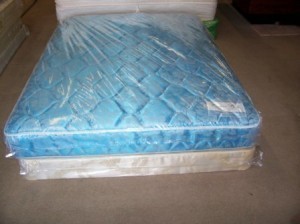 This figure should help you decide if it can fit in your room and if it's the size that fits you. But there are other elements you need to account for before purchasing a mattress.
Trial Periods and Warranties
Buy mattresses that have warranties of at least ten years. A few mattresses may offer longer warranties, but ten years is a good deal. Next, use the money back guarantee or trial period offer.
The period is usually 30 days. Use this time frame wisely. Sleep on the bed and observe it carefully. Look out for any defects or if it causes you discomfort.
Even if you have the size of a queen mattress right, it doesn't always mean it is fit for you. If you don't feel comfortable, return it. There are plenty of other brands to choose from.
Allergies and Back Aches
People with back problems need a mattress that aligns the spine correctly. Without this feature, it will be very difficult to sleep. Worse it might aggravate the back aches.
Go to the mattress' website and look for specific information about this matter. Do not underestimate this problem. An ill fitting mattress may lead to lifelong back problems.
Some mattresses can trigger allergy attacks. This happens when the material absorbs dust or lint. If you have allergies, go over the product descriptions and see what materials are used.
The size of a queen mattress doesn't have anything to do with this issue; it's the material that matters. Good choices for those with dust allergies are latex and foam mattresses.
Visco-Elastic Mattresses
A lot of mattresses use coil, but the quality is not the same. Assess the sample cross sections provided. More coils mean greater comfort. But high density foam beds are better. These are visco-elastic, so the shape will conform to the person lying on the bed.
At the same time it eases pressure on the hips, the head and shoulder areas. This feature will benefit those with aching joints or who get headaches when sleeping on hard mattresses.
Air Mattresses
Sometimes the size of a queen mattress isn't enough to provide comfort. If your partner needs a softer mattress, then buy the adjustable types. Called air mattresses, these are fitted with gadgets that let you customize the firmness. This means you can have one side that is very soft and another that is firmer.
Conduct Some Research
Mattresses can be futon, memory foam, air, organic etc. Even if you limit the choice to queen sizes, there are still plenty to go over. Study the features of each one.
Consider their characteristics and which best fits your needs. No matter what size you buy, keep in mind that you'll be using it for the next ten years or so. It's an investment so buy wisely.
Simply put, you can't base your decision to buy on the size of a queen mattress alone. By evaluating the other factors, you'll get the most value out of your money.