What is the size of Mississippi?
Found within the southern part of the U.S., the state of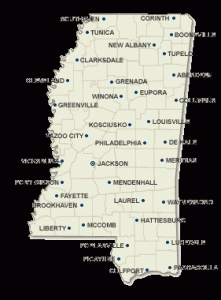 Mississippi is called by the nicknames 'the Hospitality State' and 'the Magnolia State.' It features vastly developed catfish aquaculture farms, which is one of the major producers of farm-raised catfish in the country. The heavily forested part of the state can be found beyond the Mississippi Delta area. It makes use of the magnolia tree as a state symbol. Aside from these facts, it is also interesting to find out the size of Mississippi.
The Size of Mississippi
What is the size of Mississippi? The state of Mississippi covers a total land area of 125,443 square kilometers or 48,434 square miles, which is good for 32nd overall in the United States. It has a width of 275 kilometers or 170 miles. On the other hand, its length is approximately 545 kilometers or 340 miles. The highest point in the state is Woodall Mountain, which stands 806 feet or 246 meters high. The lowest point in the area is the Gulf of Mexico.
Additional Facts and Other Important Details
The northern border of Mississippi is Tennessee, the western side is the Gulf of Mexico, the southern end is Louisiana and the eastern part is Alabama. The state has many major rivers including the Pascagoula, the Pearl River and the Big Black River. Meanwhile, its major lakes include Grenada Lake, Sardis Lake as well as the Ross Barnett Reservoir. The National Park Service manages some areas in the state including the Vicksburg National Military Park and Cemetery, the Natchez Trace National Scenic Trail and the Brices Cross Roads National Battlefield Site.
Generally, its climate is humid subtropical, which is characterized by mild winters and long summers. By July, the average temperature here is 85 degrees Fahrenheit or about 28 degrees Celsius. In January, the average temperature is much lower at 48 degrees Fahrenheit or close to 9 degrees Celsius. There are chances to experience hurricanes, specifically in the late summer and fall. The state is heavily forested, which features an assortment of wild trees including tupelo, hickory and cottonwood.
In 2006, the estimated total state product of Mississippi was valued at $84 billion. For that same year, the per capita personal income was $26,908, which was the lowest in the entire country. In 1990, casino gambling was legalized, particularly along the Gulf Coast and the Mississippi River. In October 2005, a law was approved that led to the development of casinos in Harrison and Hancock counties. In August 2007, the U.S. Census Bureau reported that Mississippi was the poorest amongst the various U.S. states.