What is the size of Ohio?
One of the states located at the Midwest part of the U.S.,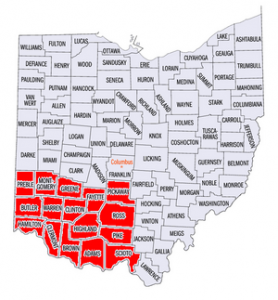 Ohio is bordered by the Lake Erie at the north, the Ohio River at the south, Pennsylvania at the east and Michigan at the northwest. The state has 88 counties, which include the Ashland County, Columbiana County and the Delaware County. Some of the major cities in the place are the Cleveland, Dayton, Springfield and Youngstown. When it comes to races, people can find Americans, Hispanics, Asians and Native Americans in the place. To increase our knowledge about this state, let us start with determining the size of Ohio.
The Size of Ohio
What is the size of Ohio? The size of the state can be determined in terms of territory or area covered. With a total area of 116,096 square kilometer, Ohio ranked 34th in the largest U.S. state. The total length of the place is 355 kilometers and it is similar with the total width of the state. The Campbell Hill is the highest point of the state with the height of 1,550 feet. The lowest point is the Ohio River with the depth of 455 feet. The state's average elevation is 853 feet.
The second way of determining the size of the place is by identifying its population. The state ranked 7th in the most populous state with an estimated population of 11,485,910. The density of population is 98.9 square kilometer. The largest ancestry groups found in the place are American, German, Irish, English and Italian.
Additional Facts and Other Interesting Details
In 2007, the gross domestic product of Ohio amounted to $466 billion. On the other hand, the per capita income was $34,874. A great percentage of the gross domestic product in the state was contributed by the financial and manufacturing sectors. Other sectors that contribute to the improving economy of the place are the health care, transportation and education.
Transportation is not a problem in Ohio because it has numerous highways and airports. The Lincoln Highway connects numerous towns and counties including the Mansfield, Lima, Wooster as well as Van Wert. Aside from ground travel, people from other countries and states can reach the place by air travel. Some of the most popular airports in the state are Cleveland Hopkins International Airport, the Akron Fulton International Airport and the Rickenbaker International Airport. Finally, the place can also be reached by train since there are several stations in Ohio including the Cincinnati Union Terminal.