What is the Size of Lake Michigan?
Known as one of the most popular and attractive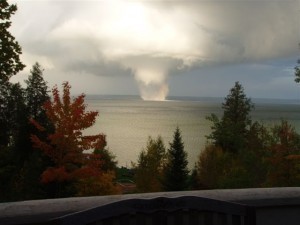 lakes in the North America, the Lake Michigan is bounded by several states of the U.S. including Indiana, Illinois, Wisconsin and Michigan. The lake is very popular for the beautiful sites that can be found in the place like beaches, lighthouses and parks. To know more about this specific body of water, let us look at the size of Lake Michigan.
General Information
What is the size of Lake Michigan? Based on records, the maximum length of the lake is 494 kilometers while the maximum width is 190 kilometers. In terms of depth, the average depth is 179 feet and the maximum depth is 923 feet. The shore length is 2,636 kilometers and the water volume of the lake is 4,900 cubic kilometer.
Additional Information and Other Important Details
The Lake Michigan is very popular because there are numerous cities found along the shore of the lake. Some of the cities that can be seen are Chicago in Illinois, East Chicago in Indiana, Harbor Springs in Michigan as well as the Port Washington in Wisconsin. Aside from these, the South Milwaukee in Wisconsin, Elberta in Michigan and the Oconto in Wisconsin is also located along the lake.
Travelers who like to unwind and relax can also find attractive beaches near the Lake Michigan. In addition to beaches, people can spend time in famous islands including the Beaver Island, the Green Island, the Fisherman Island and the Green Island. Tourists who want to spend quality time with their loved ones can relax at parks near the lake. These include the Fayette Historic State Park, the Harrington Beach State Park, the Indiana Dunes State Park, the Wilderness State Park as well as the Traverse City State Park.
Lake Michigan is popular because of the different marine species present in the water. Some of the marine species that can be found in the water are the yellow perch, the lake trout, the largemouth bass and the bowfin. Other species that are present in the lake include the catfish, the smallmouth bass, the chinook and salmon.
To improve the population of marine animals in the water, the national government of the United States added other species in the lake. Examples of animals introduced in the lake are coho, mussels and lampreys. Because of the increasing population of marine species in the water, the cities near the lake developed program that would promote fishes present in Lake Michigan.