What is the Size of Australia?
The size of Australia is 7,617,930 sq km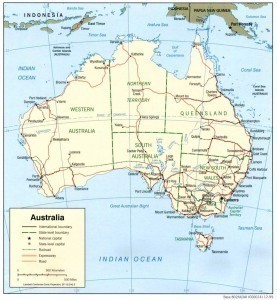 (2,941,299 sq mi). Its population as of 2009 was estimated to be 22,010,766. The density is 2.833 sq km or 7.3 sq mi. The capital is Canberra.
Geographical Information
The country has a coastline of over 32,200 km (21,620 mi). It also claims 8,148,250 sq km (3,146,060 sq mi) called the Exclusive Economic Zone. Off Australia's northeast coast is the Great Barrier Reef, the Earth's largest coral reef.
Mount Augustus is situated in Western Australia. Mount Kosciuszko is Australia's highest mountain, rising up to 73,100 ft (2,228 ft). A great part of Australia is desert, referred to as the outback. Australia is the driest continent. Its soils are among the oldest on the planet.
The south west and south east corners have more temperate climates. However, the size of Australia allows for great variety on its landscape. On the northern section are lush forests, grasslands and some mangroves. The ocean also plays a role in determining Australia's weather.
Population Growth
The earliest record of its population is from 1900. Back then there were only 3,765,300. It increased to 5,411,000 in 1920 and reached 10,392,000 by the 1960 census. There were 14,726,000 living in Australia by 1980 and 19,169,100 by the 1990s.
Largest Cites in Australia
The largest is Sydney with a population of 4,399,722. At number two is Melbourne with a population of 3,892,419 followed by Brisbane (1,945,639). At number four is Perth (population 1,602,559).
The population size of Australia's Adelaide City is 1,172,105. Gold Coast is the 6th biggest with 558,888 residents. Newcastle is the seventh biggest with 531,191 and Canberra-Queanbeyan is at number eight with 395,126.
Wollongong is the ninth most populated with 284,169 and Sunshine Coast is at number ten (237,562). Hobart is at number 11 with 209,287 and Geelong at 12th spot with 172,300 residents. The population of Townsville is 162,730. Cairns' population has been estimated at 142,001 and Toowoomba, 125,339.
Australian Territories and States
The biggest is the Australian Antarctic Territory at 5,896,500 sq km. Western Australia is next with an area of 2,529,875 sq km. Queensland is number three (1,730,648 sq km). The Northern Territory is the fourth biggest at 1,349,129 sq km. South Australia has an area of 983,482 sq km.
The size of Australia's New South Wales is 800,642 sq km. the sixth largest is Victoria with an area of 227,416 sq km. Tasmania is the seventh largest at 68,401 sq km. Australian Capital Territory has been measured at 2,548 sq km. Ashmore and Cartier Island is the tenth biggest at 199 sq km.
Heard Island is the 11th biggest with an area of 144 sq km. Christmas Island is the 12th largest (135 sq km). Jervis Bay measures 70 sq km while Norfolk Island is 35 sq km. Cocos Islands measures 14 sq km and the Coral Sea islands 10 sq km.
The size of Australia's population has been growing thanks to its robust economy. It is a member of the G 20 major economies, testament to its status as an economic power.