Vertical suspenders, suspension cables and a spacious deck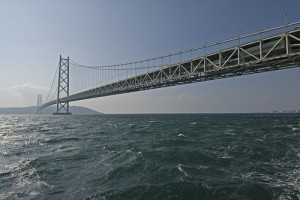 characterize a typical suspension bridge. It offers a number of different advantages compared to that of other bridges. Among them are better capacity to withstand earthquakes, reduced construction costs and longer main spans. The longest suspension bridges in the world today include the Great Belt Bridge in Denmark, the Xihoumen Bridge in China and the Akashi-Kaikyo Bridge in Japan. In addition to the longest bridges, it is also interesting to find out the widest suspension bridge in the world today.
The Widest Suspension Bridge
What is the widest suspension bridge? Aside from being the longest bridge in the world, the Akashi-Kaikyo Bridge in Japan is also the widest in the world. It is 960 meters or 3,149 feet wide, with a total length of 3,911 meters or 12,831 feet. The longest span of this bridge measures 1,991 meters or 6,532 feet. The Honshu-Shikoku Bridge Authority is currently responsible for maintaining this beautiful structure.
Additional Facts and Other Interesting Details
Also called the Pearl Bridge, the Akashi-Kaikyo Bridge connects the area of Iwaya in Awaji Island to the City of Kobe in Honshu. It is comprised of three major spans, the center part of which is 1,991 meters or 6,532 feet long. The two remaining sections both measure 960 meters or 3,150 feet long. The bridge features pendulums and a couple of main supporting towers. The steel cables are comprised of approximately 190,000 miles or 300,000 kilometers of wire.
This structure was opened to the public on April 5, 1998. Overall, it took 10 long years to finish, which started in 1988 and ended in 1998. The clearance below is measured at 65.72 meters. Each of the pylons stands 282.8 meters or 928 feet. It features six lanes of roadway.
In terms of length, the other longest suspension bridges in the world include the Jiangyin Suspension Bridge in China, the Humber Bridge in the United Kingdom and the Runyang Bridge in China. The other notably long bridges are the Golden Gate Bridge and the Verrazano-Narrows Bridge of the United States as well as the Tsing Ma Bridge, which is found within the City of Hong Kong in China.
The United States is one of the countries that feature numerous suspension bridges. Some of the remarkable bridges that can be found here are the John A. Roebling Suspension Bridge in Ohio, the Bear Mountain Bridge in New York State and the Brooklyn Bridge in New York City. Other interesting bridges found here are the San Francisco-Oakland Bay Bridge in California, the Royal Gorge Bridge in Colorado as well as the Mackinac Bridge in Michigan.