The biggest diamond mine in the world is the Orapa mine.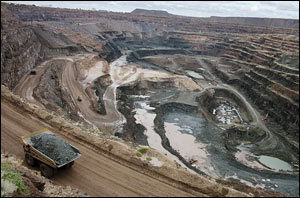 It is found at Orapa in the Boteti Sub-District of Botswana. The mine spans an area measuring 1.8 square km on ground level. Operating seven days a week, it generates 20 million tons of ore annually. In 2003 alone it produced 3,260 kg or over 16 million carats of diamond.
Other Facts about the Orapa Diamond Mine
The mine can be found 240 km (150 miles) west of Francistown city. The owner is Debswana, a joint company venture between the Botswana government and De Beers. Its operation began in July 1971, making it the oldest of the four mines operated by the company.
Orapa is of the open pit variety and is set on two kimberlite pipes that join close to the surface. Aside from the ore and diamonds, the mine generates 20 million tons of wasted rock yearly. The removable ore grade is 0.87 carats (174 mg) each ton.
In 1999, the mine was enhanced, doubling its capability. The Orapa processing plant processes the ore at three mines: the Orapa, Damtshaa and Letlhakane diamond mines.
The Orapa and Letlhakane mines have 3,100 employees. The company also has pre-primary and primary schools for employees' children, a medical facility and a game park too.
The biggest diamond mine has an ISO 14001 certificate, ensuring its compliance with environmental safety issues. The company is also noted for its waste management and water conversation efforts.
Other Facts about Diamond Mining
Thousands of mining companies exist in the world. It is a multi-
billion industry as consumers and industries demand them. The industry has also been dogged by controversy owing to the "blood diamond" issues.
Blood diamonds are those mined through forced labor. These often take place in Congo and Sierra Leone. The money generated is used to finance the conflicts in those places.
Mining Methods
Mining for diamonds is done via alluvial or pipe mining. The diamond deposit mined at pipe mining is called kimberlite. The open pit method is usually employed. Alluvial mining can come in two types, alluvial or artisanal. Using the artisanal method involves mining through mud and sand. It is this type used in most blood diamond mining.
Whether it is the biggest diamond mine or the smallest, their goal is always the same; to look for as many diamonds as possible. Improvements in technology have made this task easier to do than ever before.