An international retailer of grocery items, which headquarter is found at Levallois-Perret in France,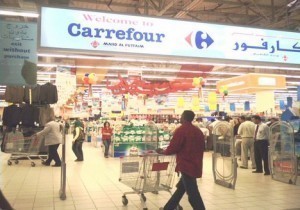 Carrefour is the world's biggest hypermarket chain in terms of size. It is one of the top ten most profitable discount hypermarket chains. The company has operations in different countries including China, Brazil, Colombia, the Dominican Republic and Argentina. To know the size of the establishment, let us look at the number of employees working for the company as well as the total number of hypermarket chains operated by the retailer.
The Size of Carrefour
How big is Carrefour? One way of determining the size of Carrefour is in terms of the population of people employed in the firm. As of 2008, the total number of employees working for the company is 490,000. The total revenue posted by the retailer amounted to 86.97 billion pounds while the operating income was 2.776 billion pounds. The profit of the firm for the year amounted to 1.256 billion pounds.
The second way of knowing the size of Carrefour is by looking at the number of chains operated by the company. In China, the company operates 134 hypermarkets while in Indonesia, the company has 61 chains. In Taiwan, the firm manages 48 hypermarkets and it has 25 retail stores in Thailand. The retailer has 11 stores in Saudi Arabia as well as in United Arab Emirates. In the other parts of the world, the company operates hundreds of hypermarkets. In 2009, the total number of stores operated by the firm is approximately 15,105.
Additional Information and Other Important Details
Some of the store brands operated by the company are Hyperstar, Carrefour Bairro, GB Supermarkets, Gima, Promocash and Docks Market. Aside from these, the firm also operates the Smile Market, the Marche Plus and the Contact GB.
The first store managed by the company opened in Annecy on June 3, 1957. The pioneer group that operated the store was assigned by Jacques Defforey, Denis Defforey and Marcel Fournier. The group started the hypermarket concept. This concept focuses on operating a department store and a supermarket store under one roof. The first hypermarket managed by Carrefour opened near Paris in June 15, 1963.
To enhance its income, the company introduced Produits libres, private label of merchandises available at lower prices. Some of the latest initiatives of the firm are the establishment of a hypermarket in Pakistan as well as the development of a plan to construct a department store in Syria in 2012.