How Big is a Cheese Knife?
Knives are part of everyone's kitchens. Cooks cannot make do without them. They are primarily used not just in the process of preparing food but also in eating.
As with spoons, there are different types of knives. There are chopping knives, paring knives, slicing knives, steak knives, and cheese knives among others.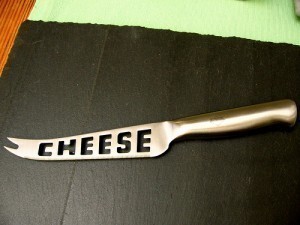 Cheese knives are especially interesting because they serve a special purpose of dealing with cheeses, which have different properties and require different types of knives as well.
Yes, you read that right, there are a couple of different knives that fall under the 'cheese knife' category. They mostly differ in size and purpose.
How Big is a Cheese Knife?
A standard cheese knife is sized similarly as any regular kitchen knife. It has a handle and a blade, which accounts for about seven inches. Other cheese knives can be shorter or longer than that, depending on its purpose.
Sharpness According to 'Hardness'
Basically, cheese knives differ according to their purpose.
Soft cheeses require a fairly sharp knife with holes in the blade. This will help prevent the cheese from sticking, gliding smoothly to the chopping board.
The hard variety of cheese like parmesan, meanwhile, requires a tough blade. It needs to be tough so it would be able to break into the hard surface.
Big wheels of cheeses require double handle cheese knives, which are often used by chefs who almost always face the challenge of big chunks of cheeses. The double handle unit can easily break the chunk of cheese in two without fuss.
There is also something called cheese cleaver. This cheese knife variety looks similar to an ordinary kitchen knife that is used to mince garlic. It is quite sharp, ideal for cutting cheese cubes for salads.
A cheese plane, on the other hand, is somewhat similar to a meat carving knife. It has the same purpose of creating thin slices of cheeses from a big chunk to be served on the table. It also usually comes with a cheese fork, which accompanies the knife to perform its duty of making even slices by keeping the chunk in place.
Buying Guide
When buying a cheese knife set for your home, it is best that you determine what you need it for. That will dictate what type or types of cheese knives you should be looking for. Also consider the style. That is, if you can afford fancy set, it would be good to go for one. As cheese knives are also often displayed prominently on the dining table. Your concern about cheese knife sizes will then be decided upon as you choose what type to buy.