Because there are many different microwave sizes, the amount of food each unit can hold varies. If you are going to buy one, understanding the product specifications will be necessary.
Haier MWM0701TB Compact
This appliance measures 11 1/2 x 19 1/5 x 14 1/5 inches. The capacity is 2/3 cu ft. This 700 W unit makes it suitable for basic cooking needs. Its compact size makes it ideal for use in small apartments, dorms and kitchens with little space. Operation is conducted using soft-touch controls.
To use, just hit "start" and choose one of the settings on the auto cook menu. It sets the power level and cooking time. The microwave can be used for cooking fresh vegetables, soup, pizza, potatoes and popcorn.
There are also settings for beverage and an option for dinner plate. The control panel has ten power levels. An add-30 seconds option is included as well as a defrost level. A kitchen timer and digital timer are also part of the unit. The pull handle design has a child safety lock too. The product is covered by a one year warranty.
Sanyo EM-S6588S
A comparison of microwave sizes will show its dimensions are 17.5 x 20.2 x 12 inches. It weighs 38 lbs. This 1000 watt unit has a 1 cu ft capacity. There is a 12 3/8 inch glass turntable that ensures heating is uniform.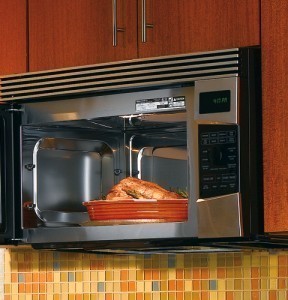 There are ten power levels. Other features include an electronic keypad and multi-stage cooking. The electronic keypad has eight direct-access menu keys and two color digital display.
Other features include a timer, a clock and defrost. Defrost can be done by time or weight. There is also a child safety lockout feature.
Panasonic Prestige NN-SD797S
The NN-SD797S measures 19.4 x 21.9 x 12 inches and weighs 31 lbs. This 1250 watt has a 1.6 cu ft capacity. This stainless steel, family size unit has a 15 inch turntable. Other features include an inverter turbo defrost and one-touch sensor cooking.
The pop-out dial and push button panel are used to make programming easy. There is also a timer and delay start. There is also a popcorn key. It can also keep food simmering and warm. The Panasonic Prestige NN-SD797S is also deigned to produce even cooking.
Being able to choose from and compare microwave sizes allows a consumer to make the proper purchase. Taking the time to compare these products will save you a lot of time and frustration.