Biggest Pearl in the World
The biggest pearl in the world is known as the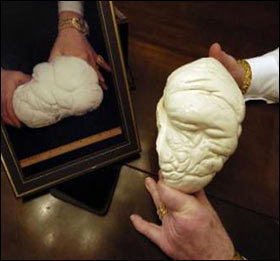 Pearl of Allah and is also sometimes referred to as the Pearl of Lao Tzu. It has a diameter of approximately twenty-four centimeters or about 9 ½ inches.
Its weight is pegged at 6.4 kilos or about 14.1 pounds. It has a staggering carat weight of 31,893.5! It was estimated to have a value of $93 million about three years ago, considerably higher than its previous estimated value of $60 million back in 1982.
Legends of the Pearl
There are actually two stories that emerged regarding the origin of the pearl. The first was that it was retrieved from a giant clam off the shores of Palawan in the Philippines, by a tribal chieftain.
An American by the name of Wilburn Cobb learned about the pearl in the mid-1930s and he wanted to purchase it from the chieftain but the latter refused. However, by some twist of fate, the chieftain's son was stricken down by malarial fever and it was said the Cobb helped nurse the boy back to health.
To show his appreciation for Cobb's help, the chieftain then granted ownership of the pearl to Cobb.
The other story claims that the pearl was actually grown to size by a follower of Chinese philosopher Lao Tzu who was a Taoist. Wars broke out because of the pearl, with a lot of people wanting to have the pearl for themselves.
To preserve and protect the pearl, it was said to have been hidden in the Philippines. Unfortunately, the pearl was lost and it is perhaps during this time that the tribal chieftain found it.
Where is the Pearl Today?
Unfortunately, the biggest pearl in the world is not displayed publicly in any museum hence; not a lot of people have seen it. It is said to be in the custody of the Pearl for Peace Foundation
For a little time though, the pearl was displayed at Riley's Believe It or Not museum in New York.
There have been disputes over the ownership of the pearl, where three main characters Peter Hoffman, Victor Barbish and Joseph Bonicelli were ordered by the court ruled that the three share ownership of the pearl.
Incidentally, Hoffman and Barbish were the ones who bought the pearl from the estate of Cobb after his death; for a meager sum of $200,000; considerably lower than its current estimated value.
The rumor mill has it that the court also ordered the owners to sell the pearl and divide the profits equally but to date, there has been no account of the pearl being sold.