The Amansara Hotel is one of the sought after retreats in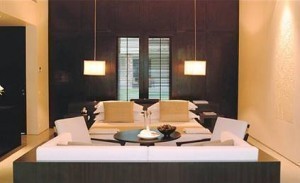 Cambodia. This was the former guesthouse commissioned by King Sihanouk. Those who have stayed in this hotel have used a variety of superlatives to describe the outstanding service they received. Though the hotel and its rooms are observably smaller than what most other hotels can offer but the elegance of the design of its interiors and the matchless service just leaves guests with a lasting impression of excellence.
About the Hotel
The Amansara Hotel has a classic sixties outlook that is obviously converted into a modern resort. Laurent Mondet, a French architect, was commission by the king to build this guesthouse in 1962. The idea was to let visitors get a general feel for the ancient ruins and other attractions of the countryside during their stay. The result was a dramatic and relaxing home away from home that offers peace within this garden enclave.
The Amansara Hotel isn't even that big of a hotel. It currently has 24 suites which are intimately decorated in accordance with classic Indochinese style. However, 12 of these rooms have private swimming pools, which is a great plus factor. However, even with or without the pool the suites are worth your money.
The regular suites in the Amansa Hotel are uniformly designed. The layout of the room is set to an open plan setting. Furnishings are finished in timber and terranzo with muted colors for a relaxing feel. To compensate for space, the entry combines the living area and the sleeping area.
You might think it strange to design a room that way but you have to see how they made everything blend well. In the living area you'll find a writing desk and a king-size bed. Each room has a dining area, bathroom, and a private courtyard complete with its own water garden. Rooms are outfitted with fans, a music system, and air conditioning.
Pool Suites
If you can afford a pool suite then you should when staying here at the Amansara Hotel. There are only 12 pool suites so if you can book one then do so ahead of time. They basically have all the features of regular rooms but with the five by six-meter pool as an added bonus. It even has a private dining area near the courtyard.
Other Facilities, Amenities, and Services
The Amansara Hotel has its own library if you want to spend a quiet afternoon. They also have a spa equipped with shower and steam bath. The hotel offers wireless Internet to its guests. You can arrange private tours of the nearby temple and other attractions in Siem Reap in Cambodia. The Amansara Hotel may seem small but it's a well-sought place that easily becomes a favorite.