When it comes to dining etiquette, it helps to know which spoons,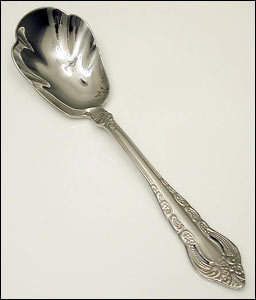 forks and knives are to be used for the different foods set before you during a formal dinner or gathering.
There are salad forks, butter knives, entrée utensils, dessert spoons and forks; and spoons for sugar and stirring milk or cream in your coffee or tea. Sugar Spoon Dimensions are almost like teaspoons in sizes.
Usual Sugar Spoon Dimensions are from three inches up to four and one-half inches long. The bowls of the spoons may differ in shape with some looking like shells.
There are also different materials used for the spoons no matter what the Sugar Spoon Dimensions are. These are sterling silver, gold or stainless steel.
Demitasse Spoon and Sugar Spoons
Sometimes, a demitasse spoon is mistaken for a sugar spoon. However, a demitasse spoon is smaller in size as compared to Sugar Spoon Dimensions. These are mainly used for stirring sugar and cream in coffee or tea. In addition, a demitasse spoon is used in a more formal setting.
A sugar spoon on the other hand, is more versatile. While its main purpose is for scooping out sugar from the sugar bowl, it can also be used to stir milk or cream in the absence of a demitasse spoon.
Sugar Spoon Tidbits
The sugar spoon was said to have first made an appearance some time in the early 1700s used to serve sugar crystals. In more formal settings, the sugar spoon is sometimes referred to as sugar shell because of its shell-shaped bowl.
Other names for sugar spoons also include sugar shovel because of the deep and square-shaped design of the spoon's bowl.
In informal settings, the sugar spoon, no matter what the Sugar Spoon Dimensions are or the design, may also be used not only for serving sugar or stirring cream or milk but also to scoop-out jam.
Buying Sugar Spoons
You will find a good selection of sugar spoons online, made by some of the finest makers of tableware utensils like Oneida. These may be purchased individually or part of a set.
Most people collect sugar spoons in various Sugar Spoon Dimensions with matching sugar bowls and these are usually the antique sets. You may also find antique sugar spoons on the internet through bidding or auction sites.
Prices may vary depending on the brand, Sugar Spoon Dimensions, whether individual or as a set and the design of the spoons. These may range anywhere from $3.99 per piece or $18.50 per set; but these may also go higher if you choose high-end brands, expensive materials or antique pieces.