What is the Size of Arizona?
Situated within the southwestern region of the U.S., Arizona is part of a group of states referred to as the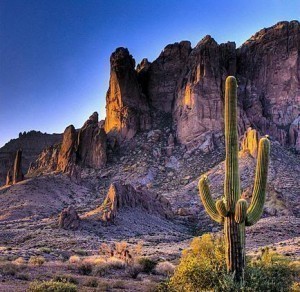 Four Corners together with Utah, New Mexico and Colorado. This state is known for its Indian reservations, monuments as well as national forests. It goes by the nicknames 'the Copper State' and 'the Grand Canyon State.' It plays home to one of the oldest national parks in the country, which is the Grand Canyon National Park. In addition to these highly interesting details, it is also good to know the size of Arizona.
The Size of Arizona
What is the size of Arizona? This state is ranked sixth in the U.S. in terms of land area, which measures 295,254 square kilometers or 113,998 square miles. Its width measures 500 kilometers or 310 miles, while its length is 645 kilometers or 400 miles. The largest city in the state is Phoenix, which is also considered the capital city. The highest point is Humphreys Peak, which measures 3,851 meters or 12,637 feet high. The lowest point is the Colorado River, the measurement of which is 22 meters or 70 feet.
Additional Facts and Other Important Details
In terms of land area, the largest city in Arizona is Phoenix. It is then followed by Tucson, Mesa as well as Glendale. Two of the other larger cities in the state are Scottsdale and Chandler. Based on reports, 15 percent of the total land area in the state is privately owned. Native American reservations, recreation areas, parkland and public forest occupy the rest of the land. Various types of xerophyte plants like cactuses grow on its desert landscape.
The state is home to the Barringer Meteorite Crater, which is definitely a well-preserved meteorite impact site. This gigantic hole is located at the Colorado Plateau high plains, which measures 170 meters or 570 feet deep and almost a mile wide. Aside from this, it also features the world-renowned Grand Canyon, which is situated in the northern part of Arizona. It is part of the Grand Canyon National Park, which is one of the prestigious seven natural wonders of the world. It has a length of 446 kilometers or 277 miles, a width of 6 to 29 kilometers or 4 to 18 miles and a depth of 1.6 kilometers or more than a mile.
The economy of the state relies heavily on tourism, citrus and copper. In addition, other industries contribute a lot economically such as cattle and cotton. In 2006, the state posted a gross state product of $232 billion.