Also referred to as armoire in French, a wardrobe is defined as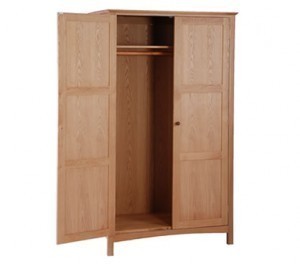 a standing closet, the primary purpose of which is to store clothes. Earlier in history, it came in the form of a chest, which later on was modified to accommodate the many different clothes of nobles and royal families living inside castles and regal palaces. The modern version comes in various sizes. Furthermore, there are other interesting things to learn about it including the different wardrobe dimensions.
The Dimensions of a Wardrobe
The sizes of wardrobes vary depending on the different designs created by manufacturers. For instance, the Double Wardrobe Beech and Mirror Door from Accent measures 83.15 inches high, 35.43 inches wide and 23.19 inches deep. Meanwhile, Baby Weavers has released the product called the Arabella 4-Drawer Wardrobe Beech. It measures 78.74 inches high, 33.46 inches wide and 19.69 inches deep.
Aside from these items, there is also the Arabella 2-Door Wardrobe, the height of which is 65.35 inches, the length is 33.46 inches and the width is 19.69 inches. For the Elaine Natural Beech Wardrobe, the height is 59.06 inches, the width is 32.28 inches and the depth is 18.11 inches. The dimensions of the Cecilia 2-Door Antique Pine Wardrobe are 33.46 inches long, 19.69 inches wide and 65.35 inches high. The measurements of most of the other wardrobes are close to these measurements.
Additional Facts and Other Interesting Details
In the U.S., the use of wardrobe can be traced all the way back to the early parts of the 17th century. It was then designed as an oak hanging cupboard, which was movable. Later on, it was imported to England, which during that time has limited woodlands. After some time, the use of oak for making furniture was replaced by walnut. During the 18th century, the tallboy became very popular as storage for clothes.
A good-sized wardrobe is measured using the simple method referred to as the eight small men. Using this, a good wardrobe can be determined by knowing whether it can hold a total eight small adult individuals. The modern form of the wardrobe was developed only in the 19th century. On every side, a hanging cupboard can be found. Beautiful wardrobes are made from finely grained woods such as satinwood as well as mahogany.
The tallboy is quite interesting. This type of furniture combines a wardrobe at the top part with chest of drawers below. On the other hand, a lowboy is a set of drawers that is as high as a standard table. This type of wardrobe became very popular in various places for numerous centuries.