The VW Combi size (also called kombi or bus) varies because numerous VW Combi types and upgrades have appeared. Below are some of the specifications of the various Combi models. Its official name is the Transporter.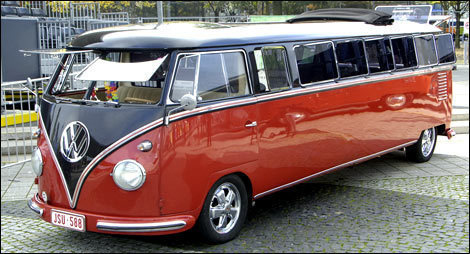 The VW Type 2 T1
The Type 2 T1 was produced throughout Europe and America from the 1950s to the late 1960s. Also known as the Microbus, it used the following engines: 1131 cc 25 hp H4, 1.5L 42 hp H4, 1.2L 30 hp H4 and the 1192 cc 36 hp H4. Upgrades to the unit led to its using larger engines measuring 72.7 cu in or 1,192 cubic centimeters. The horsepower is 30 HP.
The early Combi models were also fitted with 406 mm (16 in) wheels. This is an inch larger than the 81 mm (15 in) wheels that the latter ones employed. During the early 1960s, larger VW Combi sizes appeared courtesy of a bigger Transporter. It is noteworthy for its 1,000 kg cargo capacity. In comparison, the older models have a 760 kg capacity only.
The T2 and T3
Production of the T2 began in August 1967 in the US and Europe. It lasted until July 1979. The T2 is noted for having half shaft axles and CV joints. Featuring a wheelbase measuring 2,400 mm (94.5 in), it is fitted with a 3-speed automatic / 4-speed manual transmission. The T2 is 177.4 inches or 4,505 mm long.
The specifications for the T3 are as follows: it is 4,569 mm (179.9 in) long, 1,928 mm (75.9 in) high and 1,844 mm (72.6 in) wide. The wheelbase measurement is 2,461 mm (96.9 in). What set the T3 apart from other models are its amenities. It has power steering, air conditioning and door locks.
The T4
Various T4 models were produced from 1989 to 2003. The 1991-97 T4 models are 186.6 in (4,740 mm) long. By comparison, the 1998-2003 T4 models are a couple of inches longer at 4,788 mm (188.5 in).
The height of the 1991-93 CV is 1,900 mm (74.8 in). The older 1991-97 models are 75.6 Inches / 1,920 mm high. It is worth noting that the T4 are the first Transporters to have front engines.
When assessing the VW Combi size, you should not get confused by the name. Aside form the ones mentioned earlier, the vehicle is also called the minibus or hippie van. It became associated with hippies during the 1960s and 1970s.