A boom truck is a truck tractor or flatbed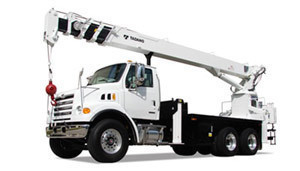 truck equipped with a boom crane. The truck is used for unloading and loading various objects and materials.
Boom Truck Dimensions
The specs will vary depending on the manufacturer. The Series 900A has a capacity of 26 tons. The booms have four sections and a maximum boom extension of 103 feet.
The tip height maxes out at 156 feet. Other features include internal anti-two-block, Hydraulic Capacity Alert System (HCAS), heavy-duty triple pump hydraulic system and planetary winch.
Other boom trucks have different specs. Some have a capacity lift limit of 1,500 lbs. Many boom trucks also have adjustable lengths; others also have 360 degree rotation. Other boom trucks have a lit capacity of 350 pounds (158.76 kg) to 1500 pounds (680.39 kg).
Types of Boom Trucks
These trucks are usually seen working on cables and phone lines. They are frequently used to carry workers at the top of an electric pole. Sometimes it is used to lift workers to roof lines. While the boom trucks used for fixing cables and wires look the same as the ones in construction, the capacity differs.
The boom truck dimensions used in construction come with a crane that helps carry large items. Some of these cranes are known as knuckle boom or boom crane. The length of these cranes can vary and sometimes extend the truck bed.
The concrete boom trucks are equipped with a pipe and nozzle. These are used to pump concrete into a specific location. These are used if the vehicle cannot access the area. Usually the booms used are 200 feet or longer.
There are some fire departments fitted with long bucket booms to carry firefighters to high buildings. In some cases, the boom trucks can function as a replacement for old fire trucks.
The self propelled boom truck looks like a forklift and is found in many manufacturing facilities and warehouses. Like the other types, these are used to carry people to otherwise inaccessible edifices.
Registration
The registration cost will depend on the size. Boom trucks that weigh 17,999 have an annual registration fee of $351. Those that weigh 18,000 to 26,000 lbs have a registration fee of $357.50 annually if gas powered. If it is diesel the cost is $351.
Aside from the boom truck dimensions, the government may impose taxes if they work in highways. The rules concerning this will vary from state to state however.