Volume Of Water In Olympic Swimming Pool
The volume of water in an Olympic sized swimming pool is 660,000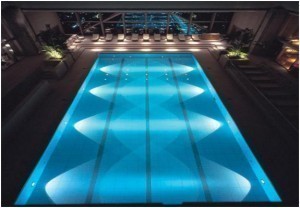 US gallons. This is equal to 550,000 imperial gallons. This is equal to 2,500,000 liters or about 88,000 cubic feet. This is the same as 2,500 m3.
Specifications and Size
This swimming pool is 50 m (164 ft) long. The width is 25 m (82 ft). There are eight to ten lanes. Each lane is 2.5 m (8 ft 2 in) wide. The temperature of the water is 25–28 degrees C (77–82 degrees F). The light intensity is 1500 lux. This is equivalent to 140 foot candles. This swimming pool is the type used for long course events (50 m).
The Short Course Swimming Pool
The short course swimming pool is 25 meters (27. 3 yards) long. Compared to the volume of water in an Olympic sized swimming pool, this is much smaller. In the United States, the short course pool is 25 yards or 22.8 meters.
Other Swimming Pool Dimensions
Most of the swimming pools around the world are measured in meters. In the US however, the measurements are in feet. Most pools in the United States are 25 meters (SCM-short course meters), 25 yards (SCY-short course yards) and 50 meters or the long course.
There are also pools that measure 33 ¼ m long. But this pool is more often used for water polo. However, the standards are still 50 m for long courses and 25 m for short courses. There are also some swimming pools in Europe 10 to 50 meters wide.
Depth
The large volume of water in an Olympic sized swimming pool is possible due to its depth. By contrast, most private pools range from 3.3 to 6.6 ft (1 to 2 m) deep. Some pools used for diving have a slope 3 to 5 meters (9 to 18 ft). Children's play pools are often 1 to 4 ft deep.
Buying Homes with Olympic Sized Swimming Pools
There are now many homes with these types of swimming pools. If you want to buy one, just remember that these come with a hefty price tag. These pools are usually built on the ground. These pools are built from fiberglass, metal or concrete.
Its dimensions make the Olympic swimming pool the biggest type of pool available for homes. Aside from their size, you can have these pools custom designed.
Many of these pools can be fitted with winding landscaping, rocks and even waterfalls. Other swimming pools can be fitted with automated water heating, underwater audio and many other features.
Aside from the size, one should remember the volume of water required by these pools. Trying to clean and maintain 660,000 gallons of water is not easy. Since these pools can be so large, some Olympic swimming pools are sold at half the size.
The volume of water in an Olympic sized swimming pool and its dimensions are standardized. While the features used in homes can be changed, the ones used for swimming competitions have remained the same.