When looking for the right tambourine sizes for a musical occasion,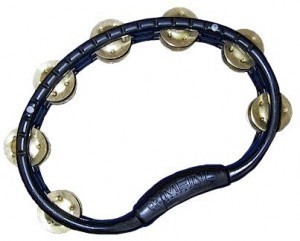 consider the tambourine measurements and number of circumference jingle pairs. Loudness depends on tambourine sizes and the number of jingles. Below are some examples.
Five to Six-Inch Size
The smallest yet effective among tambourine sizes for lively public musical performances is a 5 or 6-inch wooden shell topped with goat skin head. It has a thickness of 2 inches. Tambourine measurements between 5 to 6 inches in diameter usually have 4 pairs of jingles. This is good for kids' tambourine dance numbers or a mini choir concert. Grade school pupils should be able to handle this cheer device well.
Seven to Eight-Inch Size
Tambourine sizes from 7 to 8 inches in diameter are good for kids from 10 to 12 years old. These tambourines often have 5 to 6 pairs of jingles and of wooden shell with topping of goat skin head. They have a thickness of 2 inches. They are easy to swing around and carry during live musical performances even for kids in the above age bracket.
Tambourines for Professional Use
Tambourines used by professional dancers or musical bands or praise and worship teams have tambourine sizes from 9 to 10 inches in size. They have 2-inch thickness. They are either of wooden or metal shell with goat skin head as top covering. Tambourine measurements may exceed 10 inches and may be as big as 12 inches. They often have from 8 to 16 pairs of jingles for extra metallic jingling accompaniment as the tambourine is tapped or shaken.
Jingle Sizes
Jingles are rattling tins circular in shape placed in pairs at the circumference of a tambourine. The smallest could measure from 1 to 1 and half inches in diameter, the biggest could measure 2 inches, especially if there are only 4 pairs. Their thickness could be less than 1 mm. Jingles are used to keep the rattling sound going while the tambourine top is not yet tapped or pounded.
Tambourine Top
The goat skin head should always be a bit oversized than the actual diameter of the tambourine. This allows for stretching out on the top and sealing at the inner sides. Thus, if the diameter is 7 inches the top covering material should be 7 and a half inches. A thoroughly stretched top covering is vital for an effective tambourine.
If a musical performance requires the use of tambourines, make sure to have the right tambourine sizes with the appropriate tambourine measurements.