What is the size of Nebraska?
One of the states in the U.S. found on the Great Plains, Nebraska is bordered by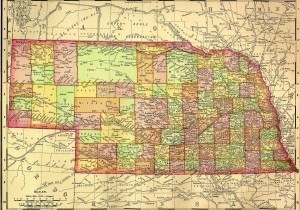 Kansas at the south, Wyoming at the west, Colorado at the southwest, Missouri at the southeast, Iowa at the east and South Dakota at the north. The eastern region of this place observes the Central Time while the western region observes the Mountain Time. The three popular rivers in the state are the Republican River, the Niobara River and the Platte River. To enhance our understanding about the geography of the state, let us look at the size of Nebraska.
The Size of Nebraska
What is the size of Nebraska? With a total area of 200,520 square kilometer, Nebraska ranks 16th among the most populous states in the U.S. The length of the state is 690 kilometers while its width measures 340 kilometers. The highest peak of the place is the Panorama Point and the Missouri River is the lowest point. Panorama Point has a height of 5,424 feet and the Missouri River has a depth of 840 feet. The mean elevation of the place is 2,592 feet.
Aside from measuring the size of Nebraska in terms of territory, it can also be measured in terms of population. The estimated population in the state as of 2008 is 1,783,432 while the density is 8.88 per square kilometer. The place's median income is $44,623.
Additional Facts and Other Interesting Details
The state is divided into two geographical regions, namely the Great Plains and the Dissected Till Plains. Some of the places that can be found at the first region are the Pine Ridge, Rainwater Basin and the Sandhills. On the other hand, the Dissected Till Plains is the region where Lincoln and Omaha are located.
In order to enhance tourism and preserve the natural resources in Nebraska, some places are managed by the national federal government. These include the California National Historic Trail, the Mormon Pioneer National Historic Trail, the Oregon National Historic Trail and the Pony Express National Historic Trail. Aside from the historic trails, the government also manages national forests found in the state like the Oglala National Forest.
The presence of different industries contributed to the improving economy in the state. Some of the industries that are present in Nebraska are insurance, manufacturing, information technology, telecommunications as well as freight transport. Aside from industries, the agricultural sector is also essential to the economy of the state. Examples of the agricultural products in the place are maize, pork, beef and soybeans.