Standard Shuffleboard Table Dimensions
Table shuffleboard, also known as American shuffleboard, is a game where players take turns "shuffling" pucks down a shuffleboard table to score points. Players use their hands to push the pucks across the table to get to the opposite side where the scoring area is located.
Shuffleboard Tables
Tables for this game are usually made of wood although you may also find laminated hardwood tables and wood grain vinyl on occasion. Wood however, is the most commonly used material for this gaming table.
These tables come in a variety of sizes, ranging from nine feet up to twenty-two feet. Standard shuffleboard table dimensions however, that are used in tournaments is the 22-foot variety. Widths for these tables should be at least twenty inches or about five hundred and ten millimeters wide.
Materials for Shuffleboard Tables
As previously mentioned, shuffleboard tables can be made from wood, wood grain vinyl or laminated hardwood. Wood that is commonly used for these tables is maple.
Maple is a high-quality type of wood because other than its sturdiness, it is also light-hued and stains perfectly. For the handrails and table legs, other types of wood may be used. The most common woods for these parts of the shuffleboard table are oak as well as mahogany.
Wood grain vinyl on the other hand is made from artificial materials that are constructed to make them look like authentic wood. While this may look like the real deal, over time its poor quality will show as this is not made to last as long as the real wooden shuffleboard table.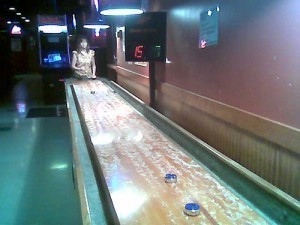 However, if you are on a tight budget wood grain vinyl table is a more affordable alternative.
Laminated Hardwood
Another alternative to the real wood shuffleboard table is the laminated hardwood table. A laminating material, typically plastic, is applied on the surface to act as a protective covering for the table to make it last longer as well as to create the right surface for play.
Table Wax
A special type of "wax" is usually sprinkled over the playing surface to lessen the friction and have more control of the pucks. This is actually not your typical wax that you gloss over the surface.
Instead, shuffleboard table waxes are beads of silicone that closely resemble sand and grated cheese. With their grated cheese appearance, shuffleboard waxes are also often called "shuffleboard cheese."
There are several types of shuffleboard wax and these tremendously influence how a puck slides down the table. For instance, beginners are advised to get waxes that are labeled as "slow-speed" or "medium-speed."
Once you have mastered the game, you can choose faster-speed waxes.