Professional Office Desk Dimensions
If there's one thing that characterizes the office more than any other paraphernalia, it is the desk. It is perhaps easy to take it for granted, but the fact is that one desk isn't as good as any other. Professional office desks come in different shapes and sizes, and this isn't just for show. The design and dimensions of a specific type of desk can have a significant effect on an employee's work rate.
The first desk that one would encounter upon entering an office building would be the reception desk. It is placed in the front area of practically most corporations, and it is this station where the corporate heads and office employees go to leave and send messages. The front desk is also the place to go to for relevant information regarding the company.
Reception desks come in a range of varying dimensions. Certain desks measure approximately 72 inches (width) x 32 inches (depth) x 29.5 inches (height). There are some desks that measure about 42 inches x 71 inches x 30 inches. There are also a number of manufacturers that supply desks measuring about 71 inches x 29.5 inches x 30 inches.
Another type of professional office desk used for the reception area is the L-shaped desk. As its name indicates, this kind of desk is characterized by its unique shape, resembling that of the letter "L." The average dimensions of an L-shaped desk are about 29.5 inches x 20.75 inches x 30.75 inches. This desk can also come in the following dimensions: 60 inches x 29 inches x 30 inches and 59 3/8 inches x 59 3/8 inches x 30 3/4 inches.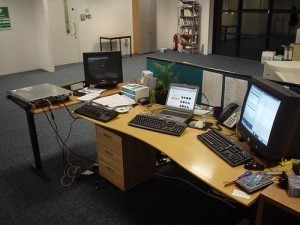 One of the most commonly seen desks in an office is the computer desk. While this desk is, of course, primarily used to carry a computer, it can be used for many other office functions as well. Most manufacturers have their own specified sizes for the computer desks they produce, but they do more or less follow a standard set of dimensions. The usual dimensions measure around 24 inches x 24 inches x 30 inches, while other desks measure around 30.06 inches x 58.25 inches x 22 inches.
The U-shaped desk is an office desk type that is considered particularly suitable for multi-taskers, as its design (shaped like the letter "U," as its name obviously suggests) provides one with much more working space. It also has plenty of room to hold a number of items, from office materials, files and documents, to personal belongings. As with the others, the U-shaped desk comes in a variety of different dimensions. There are some that measure roughly 66 inches x 29 ¾ inches x 30 3/8 inches, and others with total dimensions in the region of 71.75 inches x 93.25 inches x 61.75 inches.