Sprinklers are utilized in gardens, lawns, farms and other areas.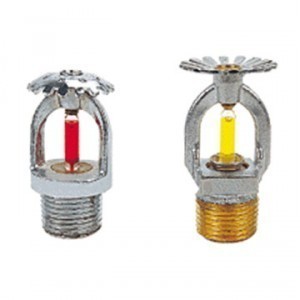 Those for home use are classified as impact, oscillating or underground sprinklers, each with their own specs and features.
Sprinkler Dimensions: Noodlehead N111C
The Noodlehead N111C sprinkler can water lawns up to 20′ x 20′ in size or a 40' strip. The Extend-A-Riser feature allows the sprinkler to be set above ground from 8" to 16" to 24". The product is designed for use on lawns but can also water patios, herb gardens and courtyards.
The Noodlehead N111C connects to any garden hose or it can be fastened to a riser. It is possible to bend the noodles to accommodate an expanding garden. While the noodles are flexible, they will keep bent in the spot they are pointed at.
Sprinkler Dimensions: Gilmour 996D Pattern Master Impulse Sprinkler
The Gilmour 996D Pattern Master measures 11 x 12 x 7.5 inches and weighs 1.9 pounds. The water coverage is good for a maximum area of 5800 sq. ft (86 ft. X 59 ft.). It can also adjust rapidly from 8 ft. to 59 ft.
The spray pattern is intended for use on rectangular, square and irregular shapes. The spray tube can be bent up or down depending on the coverage needed.
The Gilmour 996D also has flip dials for modifying the water patterns from full, partial or between them. The sprinkler is constructed from polymer and rust resistant. Custom patterns can be programmed, so it can be repeated. The watering radius is 43 ft.
Sprinkler Dimensions: Nelson 1865 Raintrain Traveling Sprinkler
The Nelson 1865 measures 9.2 x 1 x 20.2 inches. The sprinkler is made of cast iron (rust resistant). It can water up to 13,500 square feet. The arms can be adjusted so they form different patterns. The range for throwing water is 15 to 56 feet.
The sprinkler can be connected to any type of hose, although 5/8-inch and 1/2-inch are the most ideal (length up to 200 ft). The sprinkler works at high and low motor speeds. Set to high power, the sprinkler moves at 37 ft per hour (1/4" water application).
At low power the water application is ½" at 21 ft per hour. The sprinkler itself weighs 18 lbs. The hose connection is brass. The arms can be adjusted for coverage from 15′ to 55′ by 200 '.
Sprinkler Dimensions: Little Tikes Super Spiral Sprinkler
The Little Tikes Super Spiral Sprinkler measures 7.4 x 7.5 x 23.5 inches. This is a summertime sprinkler designed for toddlers. It has a spiral that produces balls using its jet stream.
There is a plastic footed spike so it can be set up easily. The water that comes out is low, so it doesn't hit kids straight on the face. There are also no moving components, which reduces the risk of something being broken.
Sprinklers that spray using a single pattern are called spray heads. The impact sprinklers are those that rotate partially or totally. When buying one, you have to check out the types along with the sprinkler dimensions.