When it comes to bed measurements, it helps to know the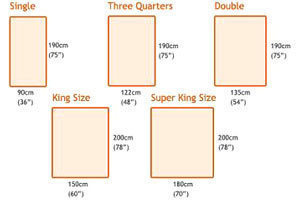 different standard measurements used in other countries as well as your own. This way, if you want to get an imported bed frame and mattress, you can readily figure out the space you need to allot in the bedroom based on international bed dimensions.
Knowing the measurements will also help you purchase the right-sized beddings that will fit your bed mattress. To give you a headstart on bed sizes, check the list below for standard US sizes as well as international standard sizes.
Bed Measurements – Mattresses
US and Canada Standard Sizes
Twin – 39" x 75"
Extra Long Twin – 39" x 80"
Full – 54" x 75"
Queen – 60" x 80"
Olympic Queen – 60" x 80"
King – 76" x 80"
California King – 72" x 84"
United Kingdom Standard Sizes
Single – 90 cm x 190 cm
Small Single – 75 cm x 190 cm
Double – 135 cm x 190 cm
King – 150 cm x 200 cm
¾ Size – 120 cm x 190 cm
Australia Standard Sizes
Single – 36" x 74"
Single Extra Long – 36" x 80"
King Single – 42" x 80"
Double – 54" x 74"
Queen – 60" x 80"
King – 72" x 80"
Europe Standard Sizes
Single – 36" x 75"
Double – 54" x 75"
King – 60" x 78"
Super King – 72" x 78"
Thailand Standard Sizes
Single – 42" x 78" x 22"
Double – 48" x 78" x 22"
King – 72" x 78" x 22"
Although the above-given dimensions are the standard sizes in different parts of the world, there could still be a bit of discrepancy in the actual size of some bed mattresses depending on the manufacturer.
However, you may use the above information as a reference point for your bed sizes to give you an idea of how much space you need to reserve for your bed frame and mattress inside the bedroom as well as help you select the appropriate bed sheets and comforters for your type of bed mattress.
To get the right sizes for your flat sheets and fitted sheets, you should check the label for the specific mattress type, i.e. Twin, Double, King or Queen; as well as the exact dimensions, whether in inches or centimeters.
Incidentally, if you are looking into buying a crib mattress, the US standard size for this is 27 inches by 50 inches. There are however, other crib sizes available so it's best to take your measuring tape with you when determining crib sizes for the nursery.