A walk-in closet is a nice feature to add into any kind of home.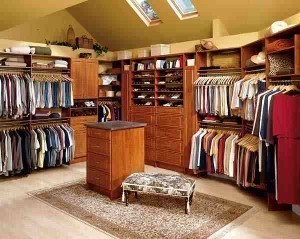 It makes clothes preservation easy. Plus, it provides maximum convenience to change your clothes with everything that you will need close by.
For anyone who intends to build a walk-in closet, size does matter. In fact, a lot of homemakers are worried about the decent size for a walk-in closet. Well, lucky you that you have stumbled upon this article. We give you the lowdown on walk-in closet sizes as well as some design ideas to maximize the space available to you.
Walk-In Closet Sizes
Walk-in closet sizes are varied widely. They come in from small to medium to large. To determine which of the walk-in closet sizes is appropriate for you, you will need to look at a few important factors.
First, examine how much space is available for you. From there, you will easily know how to work around your way towards designing your space.
Also, assess how much space you will need for your things. This will have to agree with the first point. In case the two are on the opposites, you will have to adjust. If you have a huge space that is more than enough to carry your things, you can put in a bench or another seating option, which will be useful in case you want to linger. If you have a smaller space than what you need, on the other hand, you will have to make use of shelves wisely.
Small, Medium, or Large
If you have a small walk-in closet, most probably, all that you will be allowed to is some space to hang your clothes and some extra space to stand around and do your business. This walk-in closet size definitely does not allow lingering. It is just about choosing your clothes, changing, and that's about it.
With a medium-sized walk-in closet, you can have a seating option. You can add in a bench or a couch and even a freestanding, full-length mirror. A seating option inside your walk-in closet is useful not only when you decide to linger but aalso when you are putting on your shoes.
If you have a big enough space for your walk-in closet, you can have it as big as a full bedroom. In this case, you will have lots of extra spaces to move around. A large walk-in closet can ably serve as a dressing area where you will not only be able to change your clothes but also do your hair and makeup. Also, with a big walk-in closet, it will not be as difficult to share with a younger sister or even a husband.