Spades are utilized primarily for digging up dirt.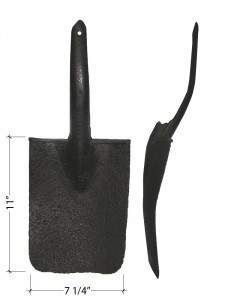 However the spade sizes are more varied than ever. These have come out to meet the demands of various users, from casual to professional gardeners.
Different Spades Dimensions
The Sneeboer Dandelion Spade has a 70 cm handle and 20 cm deep blade (scooped). There is also a footrest on the blade. The total length is 1 m. The Sneeboer Perennial Spade is 55 cm long overall. This is suitable for separating shrubs, creating holes and accessing areas that a large spade won't be able to access.
The Sneeboer Large Spade has a solidly built ash handle and comes with a stainless steel blade. There are also boot protectors for getting into tough soil.
The Sneeboer Transplanting Spade has a blade 10 cm wide. The total spade size (length wise) is 110 cm. The spade is hand forged and each is shaped individually. The blade is V shaped and comes with foot protectors.
The Sneeboer Large Spade has a blade 28 cm long and 17 cm wide. The total length is 116 cm. The Sneeboer Ladies Spade is a small spade designed for both women and small individuals. It is suitable for digging a trench or cutting through a turf. The blade is 15 cm wide. The overall length is 106 cm.
There are other kinds of spades. The Army Steel Folding Foldable Camping Garden weighs 1.06 kg. The spade size is 60 cm unfolded and 25 cm folded up. The Alan Titchmarsh spade has a 28 inch shaft and comes with a tilting handle.
The early spades were constructed of wood but were eventually replaced by metal. Spades are now equipped with a metal tip, useful for breaking up rocks.
Spades and Shovels
Shovels and spades are freely interchanged, but the former have a broader bottom and better suited for taking out loose materials. The spade is designed more for digging purposes.
The garden spade usually has a long handle while the Irish spade has a thinner head. A narrow spade is called a sharpshooter. The turfing iron is a spade with a rounded head. Different spade sizes are also available for nursery spades, which are used for transplanting.
Choosing a Spade
One of the things that people look at is the length of the handle. As indicated above, they can vary a great deal. The right length is the one you're most content with. Make sure you are comfortable when holding the spade. An uncomfortable grip might cause it to slip. This could lead to injury.
As a rule, the upper section should be big enough to put your fingers in. The shape will be either T or D. Although they cost more, rust proof spades will be able to serve much longer. Another way to reduce strain is get a spade with handle in a rubber sleeve.
The right spade size will all depend on the type of work you have to do. Choosing the wrong type could lead to injury, so make your selection wisely.