Beanie Baby sizes varies. The laying fletch cover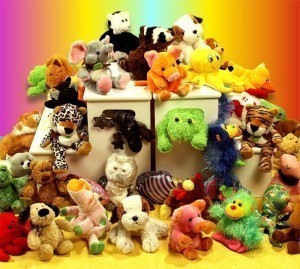 dog measures 8.2 x 7 x 2.5 inches. The Roary lion measures 8 x 6 x 2 inches and weighs 4 ounces. The Slender Husky measures 8 x 10.5 x 3 inches. Other Beanie Babies like Gary the Snail, Nanook the Husky and Halo the Angel Bear have different measurements.
Overview
The Beanie Babies are stuffed animals. Each one is filled with pellets or beans (hence the name). This stuffing is what gives the stuffed animal flexibility.
The first nine Beanie Babies made were Brownie the Bear, Patti the Platypus, Chocolate the Moose, Splash the Whale, Flash the Dolphin, Spot the Dog, Squealer the Pig and Legs the Frog. These come in different Beanie Baby sizes.
Collectibles
The Beanie Babies would become popular collectibles starting in the mid 1990s. In 1999, Ty, the company that makes the Beanie Babies, announced it would be retiring the line. A year later, a new version of the toys came out.
Aside from coming out with new styles, Ty started releasing limited versions of the toys. Several Beanie Babies were retired in 2007, and in 2008, Beanie Babies 2.0 were released.
Beanie Baby Tags
The collectors place great value on the tags that comes with the Beanie Babies. All the Beanie Babies have swing tags and tush tags. These tags underwent numerous changes and are called generations. 15 tag generations are in existence today. When collecting, it is not just the Beanie Baby sizes that are looked at, but the tag as well.
Beanie Babies 2.0
Aside from having different styles, the Beanie Babies 2.0 are noteworthy for its online component. Each toy comes with its own code. This code can be used to access the Beanie Babies website.
Rare Figures
The rarest Beanie Baby is the dark blue version of Peanut the elephant. Light blue versions are available, but the dark one is vey rare because it was created by accident. Another rare Beanie Baby is Nana the Monkey and Quackers the duck.
Other rare and highly valued Beanie Babies are Peking the panda bear, Humphrey the camel and Zap the cat. The Billionaire bears are even harder to find as they are given as presents only to Ty workers and employees.
The Beanie Baby sizes are becoming more varied as new versions appear. With other accessories coming out, it is expected that other types will come out.