The smallest tropical fish is the Paedocypris progenetica. The smallest specimen ever measured is 7.9 mm long. That is equal to 0.316 of an inch. The biggest ever measured is 10.3 mm.
Classification
The fish belongs to the Danioninae subfamily in the Cyprinidae. It belongs to the Cypriniformes order in the Actinopterygii class. Paedocypris is an Indonesian genus fish.
Because it belongs to the Cyprinidae family, it is related to the minnows and carps. Two species are widely known, the Paedocypris micromegethes and Paedocypris progenetica. A third unknown specie was uncovered in Bukit Bauk, Terengganu in Malaysia in 2006.
Physical Characteristics
The smallest tropical fish has features that are not found in other fish. For example, it does not have a bony skull like other fish. However, it still keeps the post-anal larval-fin-fold on the caudal peduncle's ventral edge. This is something often seen in fish larvae.
The Paedocypris has a distinct sexual dimorphism. The male Paedocypris is equipped with modified pelvic fins. One of the rays ends in a hook-like keratinized skin. This is backed up by a hypertrophied pelvic musculature.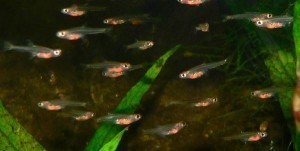 The male Paedocypris also has keratinized skin pads on the pelvic fins' front. Its functions is not clear, but it is probably used during mating season.
Conservation and Habitat
Paedocypris progenetica can be found in Indonesian swamps. In particular, the fish can be seen in Sumatra. Scientists have been seen in the Sarawak peat swamps.
In spite of its small size, Paedocypris is a very robust fish. Its small size allows the creature to survive in very little water. Scientists have also proven that the fish can survive in acid water puddles.
Research has also shown Paedocypris can live in water with 2.9 pH levels. This is a hundred times more acidic than normal freshwater. Like other fish, their environment is being threatened by plantations, logging and forest fires.
Discovery
Paedocypris progenetica and Paedocypris micromegethes were discovered by Tan Heok Hui and Maurice Kottelat, both ichthyologists. Ralf Britz studied their osteology.
The two ichthyologists were also responsible for the discovery of the third variant. The species were described in 2006. The name is taken from the Greek word Paideios which means children.
There are other species that claim to be the smallest tropical fish in the world. One of them is the goby. While it may weigh less, it is longer than the Paedocypris. The Australian stout infant fish is just a tad longer than the Paedocypris at 8.4 mm.