Buying ski boots requires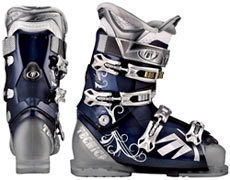 a lot of careful consideration. Ski boots generally make your riding just a little safer not to mention comfortable, hence; getting the right boots for skiing is essential to your enjoyment of this winter sport.
One of the most important things you need to look into is getting the right ski boot size. If you do not know your size in these boots, you can check out ski boot size conversion charts that are available online.
Ski boots are usually measured in centimeters via the Mondo system; and a lot of buyers claim that this sizing system is more accurate when compared to other standard sizing systems.
Ski Boot Size Conversion
Basically, you can find ski boot

sizes in US, UK and Mondo standard measurements. This will help you find the right measurement based on the unit that you have been accustomed to.
One of the things that you have to remember is that your ski boots are sized differently as compared to your regular shoes. So right off the bat, forget your usual shoe size and start sizing-up your ski boots according to their own sizing specifications.
For a few size conversions, see the list below.
US Women's 5 is equal to UK 3, Euro 35 and Mondo 21
US Women's 6 is equal to US Men's 5, UK 4, Euro 36 and Mondo 23
US Women's 7 is equal to US Men's 6, UK 5, Euro 37.5 and Mondo 24
US Women's 8 is equal to US Men's 7, UK 6, Euro 39 and Mondo 25
US Women's 9 is equal to US Men's 8, UK 7, Euro 40.5 and Mondo 26
Sizing-Up
If you've seen other ski boot size conversions charts, you may notice that the Mondo sizes indicated here are at least half-a-size smaller. The above-given conversion is said to be more accurate based on people who have used the conversions.
When trying on your ski boots, you should be wearing the actual ski socks that you will be wearing with the boots. Regular socks are thinner and thus will not give you the right fit.
It is also best that your toes can touch the front-end of your boots when you're in a standing position. Experts advise that you get the smallest size possible but one that is also comfortable to wear.
This will give you the best support when skiing and also keep you steady and stable on your skis as you slide down the slopes.