If you're looking at getting a gold ring, whether for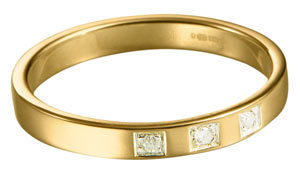 yourself or for someone else; it is very important that you get the right ring size especially if the shop you're getting the ring from does not accept returns.
Getting the right gold ring sizes is doubly important if the rings are going to be the wedding rings you and your partner will be wearing. You don't want a ring that won't easily slip on your partner's ring finger as you exchange I Do's.
General Gold Ring Sizes
To give you an idea of standard ring sizes, below is a list of the sizes and their equivalent in millimeters.
Size Five – 15.7 millimeters
Size Six – 16.5 millimeters
Size Seven – 17.3 millimeters
Size Eight – 18.2 millimeters
Size Nine – 18.9 millimeters
Size Ten – 19.8 millimeters
Size Eleven – 20.6 millimeters
Size Twelve – 21.3 millimeters
Size Thirteen – 22.2 millimeters
If you have a ring, measure its diameter and see how your value compares with the sizes above. If you find that your ring measurement falls between two standard measurements as given above, you should get the larger size for good measure.
Ring Sizer
Another way to measure your ring size is through a ring sizer. Jewelers have these on hand for their customers so you should ask for their assistance when determining your ring size.
On the other hand, if a ring sizer is not available, such as when you're shopping for your ring online; you can either make your own ring sizer or find one on the internet that you can readily print out.
To make your ring sizer, you just need to make a strip made of paper, and then wrap this around the finger where you intend to put the ring. Mark the strip with a pen where one end meets the part of your strip to make a ring on your finger.
Measure one end of the strip up to the point that you have marked and then you have with you a general idea of how big or small your ring size is.
Online jewelry shops sometimes also offer a ring sizer that you can request from them and they will send it to you. They also sometimes offer copies of the actual ring that you want and they will likewise send this to you so you can try it on for size.
Ring sizes also include measuring the width and thickness of the rings. Wedding rings for instance have a standard size of 1 millimeter thick and about 3-5 millimeters wide.
It is important to look into all these small details in order to get the right ring size especially if you are getting it as a gift for a loved one.