Dimensions of a Hollow Block
A hollow block is a concrete masonry unit,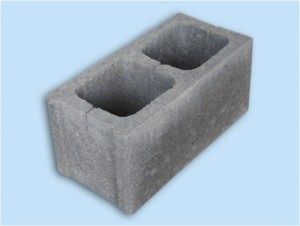 which is sometimes referred to as foundation block, cement block or concrete block. One of the widely used and highly important materials in the construction industry, this brick is often described as rectangular and large. Because of its ability to control different kinds of moisture issues, it is the preferred choice when making different kinds of structures like dining areas, shower stalls and car washes. Aside from these basic details, there are more to learn about this concrete masonry unit including the dimensions of a hollow block.
Hollow Block Dimensions
Hollow blocks are available in many different sizes. In the United States, the standard size is 20 centimeters by 20 centimeters by 41 centimeters or 8 inches by 8 inches by 16 inches. In the United Kingdom and Ireland, they use a different standard size, which is 44 centimeters by 21.5 centimeters by 10 centimeters or about 17.3 inches by 8.5 inches by 3.9 inches without the mortar joints. When using hollow blocks, be sure to leave out space for mortar joints, preferably 1 centimeter or 0.375 inch.
Additional Facts and Other Interesting Details
Cast concrete is the primary material used in making hollow blocks. For this, you need to mix Portland cement with an aggregate such as sand. Aside from this, it is also good to mix cement with fine gravel, especially when creating blocks that are high density. For blocks that are low density, simply mix cement with an aggregate such as industrial waste. In the U.S., cinder blocks are made using cinders such as bottom ash or fly ash. In Australia, these blocks are called bricks or besser blocks, while the term 'breeze blocks' is commonly used to describe them in the United Kingdom. Due to their inferior compressive strength, breeze blocks are not anymore used in the country.
Besides fine gravel, fly ash or sand, clinker is another aggregate that can be used to produce hollow blocks. When this aggregate is used, the end product is often referred to as a clinker block. When planning to create lightweight blocks, it is best to use aerated concrete, which is a precast building material.
Hollow blocks are commonly used to create load-bearing walls for buildings. To do this, these blocks are reinforced with tie beams as well as concrete columns. This specific type of construction method is called concrete block structure. In suburban houses, particularly in the U.S., a slab and a concrete foundation are commonly paired with a concrete block wall. After installation, hollow blocks usually appear as unattractive and drab. To help fix this problem, it is good to use a decorative finish, preferably siding, paint or stucco.