The North Pole is more popularly known as the place where Santa Claus dwells and makes toys all year-round for kids so each child can have a special present from Santa come Christmas Day.
However, there is an actual North Pole and this is actually located in Alaska. It's a town in Fairbanks North Star Borough and has about a population of a little over two thousand based on statistics taken a few years back.
The North Pole Size
The North Pole size, being a small town, is only about 4.2 square miles or about 10.9 square kilometers.
Each year, as Christmas draws near, this small town gets over a hundred thousand letters from children asking for gifts or simply to extend their own holiday greetings.
A good number of adults have also been known to send in their letters to the North Pole come the holiday season.
The Santa Claus House
There is actually a Santa Claus House in the heart of the North Pole, located along St. Nicholas Drive. Outside the house stands a large 3-dimensional Santa Claus, about forty-two feet high and nine hundred pounds.
Built as a general merchandise facility back in 1952, it has now evolved into a true-blue Santa Claus house where kids can find hundreds of Christmas treasures, adults can shop for holiday ornaments, novelty items from Alaska, clothes plus a lot of other interesting and unique items.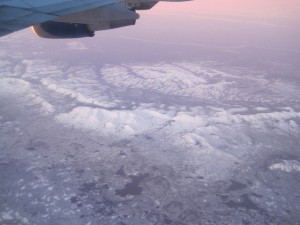 There is also a coffee shop within the house where warm chocolate and espresso are served.
Photo Opportunities
Guests can have their pictures taken in several Christmas-themed backdrops such as the Nativity Scene, plus animals like a polar bear and moose; loads of Christmas trees and Santa's towering figure.
There is also Santa's famous sleigh sitting outside the house and this is also available for photo opportunities.
The North Pole also pays homage to Santa by naming a few of their streets after his many different monikers: Santa Claus Lane, Kris Kringle Drive and St. Nicholas Drive, to name a few.
The city also comes alive come the holiday season, with candy cane lights adorning the streets and the shops around town.
Santa's Real Christmas Village
However, the whereabouts of Santa's actual home and workshop are still a secret as no one can find these anywhere in the North Pole. The workshop is of particular interest to kids because this is where all the magic happens.
Elves are depicted as helping Santa run the workshop, each one having his or her own duties while Santa's reindeer roam about the grounds, waiting for Christmas eve.