Smallest National Cemetery
The smallest national cemetery in the US is Hampton VA National Cemetery. The area covers only 0.3 of an acre. As of 2005, there are 22 interments at the site. It is currently not accepting new interments.
History
This is the tiniest cemetery being managed by the Veterans Administration. It is situated close to Hampton Veterans Affairs Medical Center. The site was set up in 1898 at the location of the Southern Branch of the National Home for Volunteer Soldiers and Sailors. It was established during a yellow fever epidemic quarantine.
Every individual who died around the quarantine period was interred there. There was no choice because no one was allowed to leave or enter the station. The 22 interments took place between July 30 and August 15, 1899. In 1973, management was transferred to the Department of Veterans Affairs.
An Overview of US National Cemeteries
Whether it is the smallest national cemetery or not, these sites are all overseen by the US government. These sites are respected for their historical and cultural importance. Some of them still accept new interments.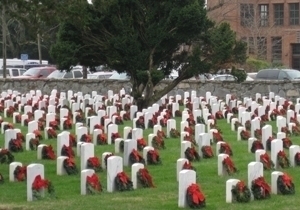 Many of these are intended for war veterans and their kin. There are currently 139 recognized National Cemeteries in America. Many states also manage State Cemeteries. 123 of the National Cemeteries are handled by the National Cemetery Administration. This is a part of the Veterans Affairs Department.
These are intended for military burial. They are located all over America. Two of these are managed by the Army. 14 are administered by the National Parks Service. These sites are not active anymore. The National Parks Service is also responsible for the interment sites for early US colonists and Civil War veterans.
Other Information
Aside from Hampton VA, there are many famous National Cemeteries in the US. One of the most well known is Arlington in Virginia. Other well known sites are the National Memorial Cemetery of the Pacific in Hawaii, Golden Gate National Cemetery in California, and the Custer National Cemetery in Montana.
The National Cemetery Administration keeps a detailed list of all buried people in these sites. This information will useful for those looking for their ancestors or relatives.
The smallest national cemetery and all the national cemeteries in the US are only for people who have performed great service for the country. Every military veteran is entitled to be buried in any of these sites. The burial costs are shouldered by the US government.