Although their basic function is the same, stapler dimensions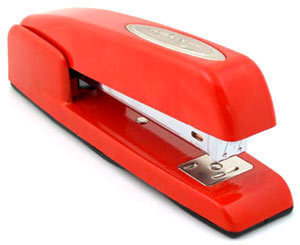 vary, as do the weight. Some staplers measure 1.9 x 6.8 x 2.2 inches, while others are 2.8 x 4.8 x 3.4 inches. Other staplers are 1.5 x 4.8 x 2.2 inches while others are larger.
Overview
The stapler is a device used for attaching paper sheets and other similar materials. This is done by putting in a piece of metal into the paper. The metal ends are folded, which help keep the papers together. These devices are employed in business, schools, homes and government offices.
Methods of Stapling
Various methods can be used, depending on the stapler dimensions and specs. Permanent fastening joins the items by putting the staple into the object to an anvil. The anvil is a steel plate that bends the ends. The bending is done in an inward manner.
Contemporary staplers have anvils that turn or slide. This allows them to alter between pinning and permanent stapling. Clinches may be adjacent to the paper, rounded, flat squiggled or standard.
The staple remover is used to take out permanent staples. These have curved ends that go under the staple. By squeezing the staple remover, the staple will be removed.
Pinning binds the papers in a temporary manner. Pinning is done via sliding or turning the anvil so the bending of the staple is oriented out. Other staplers do the pinning by bending one leg outwards and the other leg inwards. Although the stapling is secure, the items can be detached easily.
Tacking
Tacking involves securing objects to walls, bulletin boards and other surfaces. Staplers with tacking capabilities come with a base that can be folded. This will allow the device to set the staple in the object, not the anvil. A staple gun is a device without the anvil or base.
Saddle Staplers
Another type of stapler is the saddle stapler. This comes with an inverted V saddle. It is utilized for joining pre-fold sheets. There are also stapleless staplers.
The stapling is done by punching a paper flap and weaving it in a notch. There are also staplers used for surgical anastomosis. The staplers used for surgery have different specifications and do not have an anvil.
Aside from stapler dimensions, the quality of the stapler itself has to be assessed. A good quality stapler should last for several years, and should join the papers easily. Read the instructions so you know what materials it can actually support.