A garden fork is a tool used to dig, break-up soil,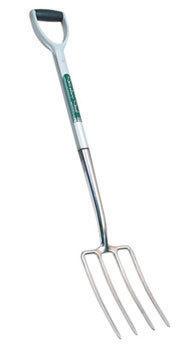 loosen and turn it to have the soil ready for your flower garden or vegetable patch. While you may consider a tiller to do the job, there are areas that a tiller may just not fit hence; a garden fork is an essential gardening tool.
When you are looking for the right Garden Fork Dimensions, what you want to check are the sizes of the fork heads and the shafts. You should know that choosing the right dimensions can spell a huge difference between properly tilling your soil and doing back-breaking work without much progress.
The size matters because it should not only be the right size for your garden space but likewise should be of the right dimensions for your size for easier handling.
Garden Fork Dimensions
First off, check out the size of the fork head when selecting garden forks. There are basically two options for fork heads that you can choose from: five and one-half inches by nine inches and eight inches by twelve and one-half inches.
If you are looking for the most ideal fork head size for digging up soil, look for one that is approximately seven inches in width by eleven inches in height.
The size of the shaft is also important since you should get one that is suitable to your height. Shaft sizes in garden forks can range anywhere from twenty-eight inches to forty-eight inches.
The shaft also comes in different handles: T-shaped, D-shaped and YD-shaped. There are also those that come without handles so you can choose one that you are most comfortable with.
When considering your garden fork size, you should also check if your gloved hands can easily slip through the size of the handle of the shaft so you can easily maneuver the fork and work more efficiently.
Gardening Tools Suppliers
If you wish to look at some of the available garden forks these days, your best option is to check online. You can simultaneously view several gardening equipment suppliers on the internet which makes it easier for you to compare each one according to its features and price.
These garden forks can be made from a variety of materials but the usual ones are those made from stainless steel for the fork head and hardwood for the shaft.
It is essential that you get a sturdy one not only to give your garden fork a longer shelf life but also to ensure that it won't break down while you are in the middle of working on your garden.