Agricultural Tractor Dimensions
Today's agricultural tractors come in a variety of sizes,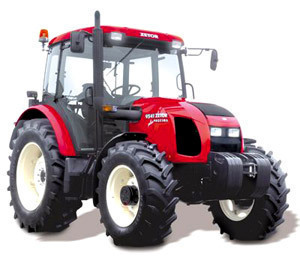 and their specifications vary widely. If you are going to buy one, being aware of the different specs will be necessary.
CaseIH Farmall 31 Agricultural Tractor Dimensions
The CaseIH Farmall has a wheelbase measuring 63 inches (160 cm). It weighs 2544 pounds. The front tire measures 7 x 14 and the rear tire 11.2 x 24. It has a fuel capacity of 7.5 gallons. The rear power takeoff (PTO) is live and the rear RPMs is 540.
The tractor is 112.4 inches (285 cm) long, 87.8 inches (223 cm) high and 54.3 inches wide. The mid PTO is hydro with an optional gear. The CaseIH Farmall 31 can be fitted with a front-end loader.
The engine is 31 hp (23.1 kW) and the PTO is 26.5 hp (19.8 kW) for gear and 24.9 hp (18.6 kW) if hydro. The chassis is 4×4 MFWD 4WD. The cab is ROPS and has wet disc brakes. The steering is hydrostatic power.
The valve flow is 7.2 gpm (27.3 lpm) and the steering flow is 5.1 gpm (19.3 lpm). The entire flow is 12.3 gpm (46.6 lpm). It has an alternator charging system with 40 charging amps.
Kubota M95 Agricultural Tractor Dimensions
The Kubota M95 weighs 7,628 lbs (4WD cab) or 6,261 lbs (ROPS). The wheelbase is 95.9 inches (243 cm) and it is 106 inches (269 cm) high. The tractor is 79 inches (200 cm) wide and 162 inches (411 cm) long. The 2WD turn radius is 12.5 feet (3.8 m). The 4WD turn radius is 15.4 feet (4.7 m).
The ground clearance is 17.1 inches (43 cm). The fuel capacity is 40 gallons (174.1 L). The rear lift at 24"/610 mm is 4,630 lbs. it has one valve with an option for three. The charging amps are 45 ROPS, 60 cab and 80 optional. The valve flow is 17.2 gpm (65.1 lpm).
The engine has 95 hp (70.8 kW) and 84 hp (62.6 kW) PTO. The chassis is 4×2 2WD and the steering is hydrostatic. It has wet disc brakes. The tractor comes in several variants, including the M95X, M95H, M95DS-F and M95DSC.
The agricultural tractor dimensions is just one point you ought to consider as a buyer. The engine power is another thing. Consider the tasks you want the unit to do before you decide on what to buy. If you're getting a secondhand unit, make sure to examine it first.