A pastry bag is most often used for decorating cakes and sweets.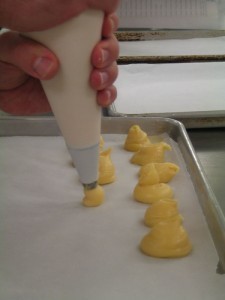 But as the following will show, they can also be used to garnish other food too.
Pastry Bag Sizes: Fat Daddio's
Fat Daddio's pastry bags measures 4 x 8 x 0.5 inches. The bag is constructed from heavy broadcloth. The material is layered with plastic polyurethane. This combination makes the bag flexible and easy to use for decorating cakes and brownies.
The pastry bag can also be used for filling tomatoes with cream. You can also use the tool to pack your eggs with devilled fillings. Fat Daddio's pastry bag can be cleaned in a dishwasher. It does not leak and is bleach safe. It has an extra ring of cloth close to the top so tearing is avoided.
Pastry Bag Sizes: Norpro 3562 Decorating Set
The Norpro 3562 Decorating Set includes one coupling and the pastry bag. It measures 6 x 8-1/5 x 1 inches. The product comes with half a dozen metal icing tips.
The sizes are 2, 27, 30, 61, 67, and 98. Among the tips are #2 Fine Writing tip, #67 Leaf tip, #30 Large Star tip, #61 Flower tip and many more. The pastry bag is useful for adorning pastries, hors d'oeuvres and cakes.
The set is designed for novices but can also serve as supplements for seasoned cake decorators. The tips are reusable as is the pastry bag. They can be used to decorate deviled eggs and add rosettes to cakes.
Pastry Bag Sizes: CIA Masters Collection
The CIA Masters Collection disposable pastry bags are 12 inches long. All the bags are capable of holding in 1 ½ cups. The bags are dual finished so gripping them is easy.
The insides are smooth. The roll has 36 bags which fit in the decorating storage container. Because the bags are disposable, there is no need to clean them up after usage.
In addition, the bags are transparent so you can see the contents. This can be useful if you are trying out different colors for cake decorations. Using these pastry bags you can make great looking cookies and desserts.
Pastry Bag Sizes: Ateco
The Ateco pastry bag is 18 inches long. It is made of a heavy cotton cloth so it will not slide when you use it. This can happen sometimes when working with stiff dough.
The design of the tube however, keeps the bag intact even if the dough is hard. The bags are solidly built and come with double stitched seams. The tip design provides accommodation for big tubes.
If you want to use smaller tubes, there is a coupler included. The design of the pastry bags also keep any fatty stuff inside. This will prevent your hands from getting greased.
Whether you are a novice or an experience cake decorator, there is certain to be a pastry bag size to fit your needs. Although it may seem confusing at first, it will only be a matter of time before you find the right size that suits your decorating needs.