One of the most admired forms of Japanese art is garden design.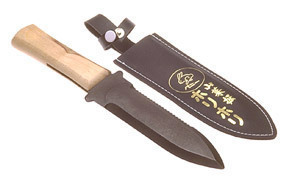 Over the centuries, the Japanese used their gardens as an expression of their closeness with Nature and strived to reveal the mysteries of life and creation to the imagination of those who behold the intriguing beauty of the Japanese garden. Like any art form, Japanese gardening has its special tools with which the artist works and breathes life into his creation. One of the most important tools is the "hori hori" digging knife, which was originally used for collecting prized bonsai plants from wind swept, craggy mountain cliffs. Extracted from the Japanese word "hori," which means "dig," hori hori, or "diggy diggy" is a much sought after garden tool even outside Japan for digging and weeding with ease and precision. The hori hori dimensions and specifications make it especially suitable for the many and varied gardening tasks it was meant to perform.
The hori hori has a pointed highly polished stainless steel blade with serrations on one edge making it perfect for root pruning, while its razor sharp opposite edge is excellent for splitting perennials and dividing plants. One side of its thick blade is slightly concaved so that it can be used as a trowel for digging, weeding, transplanting, cultivating and sod cutting. Measurement markings are also etched on the blade so that soil depth can readily be obtained. The hori hori is so sharp that to prevent accidental cutting, it is usually paired with a leather scabbard that can be attached to a belt so that it can conveniently and safely be carried around in the garden. Its large wooden handle makes the hori hori comfortable to use with one hand and can serve as a small hand axe for hacking through small branches in addition to its functions as a knife, trowel, saw and measuring device. The hori hori dimensions of 7.25-inch blade and 5.25-inch handle for an over all length of 12.50 inches makes it ideal for its multi-function features.
In many ways this simple Japanese garden tool is the equivalent of the famous Swiss knife in terms of multiplicity of features that does away with the need to carry several tools to your garden job site. To be sure, the usefulness of this multi-faceted tool extends beyond the fences of your garden. The comfortable hori hori dimensions coupled with its sturdiness and varied functions make it an indispensable tool that the serious horticulturist, avid hunter, and the consummate outdoorsman should always keep by his waistband.