The DIN sizes for car head units come in two standards.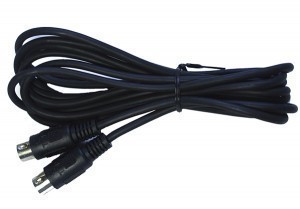 The single DIN measures 180 x 50 mm and the double DIN 180 x 100. The standard for radio is set at 2 x 7". For a double DIN radio it is 4".
The DIN Dimensions
This standard was implemented in 1984 by the Deutsches Institut für Normung in Germany. It was termed the DIN 75490. Today it is just known as the DIN car radio size. In spite of the various designs of car radios, the standard has remained unchanged since its implementation in 1984.
The Car Head Unit
The single DIN size (2 x 7") is commonplace as stated. If your head unit doesn't conform to this size you must get an adapter so it can work with an oversized slot. Always look for a head unit that conforms to the standards. The same thing can be said for the double DIN dimensions.
The other thing to look for in car head units will be quality. All items will play radio but others can play various media. What exactly are you looking for? Most players come with Mp3 capability. Others can play WMA, or both. As you can see, the DIN size is just one aspect; the features of the car head unit are of course very important.
CD Changers and Other Features
Car head units today have CD changer controls installed. Look for these features if you want maximum convenience. Also check the hardware; if you want Sirius satellite radio, you need to have the right hardware. Some head units also have removable faces. These are useful for preventing theft. A lot of new models also come with DVD features.
A car head unit with DVD capability is nice, but some even come with in dash video. These allow you to see video right on the dash. Others come with navigation as well.
Testing for Comfort and Fitness
Aside from the DIN size, you need to make sure the head unit actually fits you comfortably. It shouldn't just fit; it must feel good and comfortable. Try it out and see how easily you can make modifications to it. You'll be doing this as you drive, so you need to be as comfortable as possible.
Check the car head unit and make certain that it fits your vehicle model. Some units are very particular about this, so check with the seller. Before installing the model, make sure you follow all the instructions so it works out fine.
Other Reminders
Other factors need to be assessed. These include the amplifiers. The RMS watts denote the power of the radio. You need to ascertain that the head unit produces sufficient power for the radio. You also need to consider if you'll be making upgrades. Check if this is possible with your car head unit.
The DIN sizes may be standardized, but there are plenty of other issues to consider. Before shelling money to buy car head units, assess all these factors first.