Home safes are an essential item for those who have valuables at home whether these are important documents or precious items such as jewelries, precious coins, precious metals and such.
Safes not only keep your valuables out of everyone's reach, they also provide protection for these items especially when incidents of fire occur.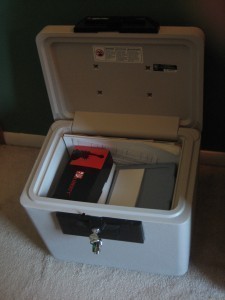 While there are various sizes of home safes, these are generally compact to allow you to place these in any room in the house without talking up too much space.
Sizes of Home Safes
Depending on the items that you will be storing, sizes of home safes usually include the number of compartments in each type of safe.
If you need several compartments for your important documents, jewelries, coins and other precious items; the sizes of home safes that have compartments are a bit bigger than the usual single compartment variety.
Sizes of home safes with compartments are usually around 19.3 inches deep by 16.3 inches wide by 17.8 inches high. For a safe of this size, the interiors are approximately 11.9 inches deep by 12.6 inches wide by 13.8 inches high.
To allow you to determine the size of each compartment, these safes are typically equipped with a removable shelf so you can specify the heights of each compartment.
If you do not need compartments in your safe, you can find sizes of home safes for this type that come in measurements of 12 and one-eighth inches in height by 16 and one-fourth inches in width by 13 inches in depth for the exterior of the safe.
Interior dimensions for this size of home safe are around 9 and one-sixth inches in height by 13 and one-third inches in width by 8 and six-sevenths inches in depth.
Choosing Your Home Safe
There are several types of home safes that you can consider for storing your valuables in and these are basically determined by how you will be placing these in your home.
The general home safe is one that you can place on the floor, on a shelf or tabletop – provided that these can support the weight of the safe. If you wish to conceal your safe, you can choose either an in-floor safe or a wall safe.
An in-floor safe is basically something that you can conceal under your floor and the cover with a rug or any type of floor covering of your choice. The wall safe is pretty much like the in-floor safe except that you hide this behind your wall.
Both types keep your safe out of plain view and any one of these is actually the more preferred type for those who have highly valuable items like heirlooms and such.