Baby swings can calm your fussy and irritable baby with their gentle rocking motion. A lot of parents actually look to baby swings for help when it comes to soothing a crying baby.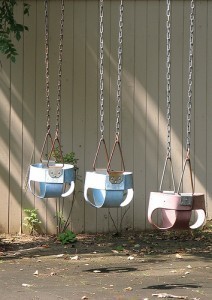 They also rock the baby to sleep which means that you can get some rest, too; once the baby dozes off. Designed for infants and toddlers, these baby swings are a definite must-have for most parents, especially first-time moms and dads.
Sizes of Baby Swings
As with other baby items, sizes of baby swings may be different from one maker or brand to the next. Also, much like baby items designed to support or hold the baby, the sizes likewise indicate up to what baby height and weight they can support.
For instance, one brand may have sizes of baby swings in measurements of 29 inches in length by 23 inches in width by 25 inches in height; while another may have dimensions of 38 inches high by 26 inches wide by 32 inches long.
Most of the sizes of baby swings however will indicate that they can support babies until about the time that they can sit up without any assistance or roughly around a maximum weight of 30 pounds.
Others may also indicate that their swings are good for newborn babies up until they reach the maximum weight of 30 pounds.
Bigger sizes of baby swings are generally around 44 inches high by 25 inches wide by 43 inches deep.
You can see that various brands have their own sizing specifications where some may include the depth of the seat while others may simply put in their measurements via the length, height and width of the swing.
Features
As with the sizes of baby swings coming in at varying dimensions based on the brand or manufacturer, the special features of the swing may likewise vary again, based on the manufacturer's own design and style.
Most baby swings are battery-operated however, you will find that quite a few models come with an AC adapter which will save you costs on batteries but may slightly raise your electric bill.
Generally, the swings have different rocking or swinging speeds allowing you to pick the right level of speed suitable for the age of your baby or based on your baby's preference.
There are models that come with 3 swing options while others come with 5 different swing speeds. The sounds and music that the swing plays also differ. Usually however, these sounds are soothing and relaxing for the baby to help them get to sleep.
Swing timers may also be included in some models from 15 minutes up to one hour at 15-minute intervals.