Baby strollers are excellent travel equipment for the little ones, providing parents with a better alternative to carrying the baby themselves every time they step out of the house.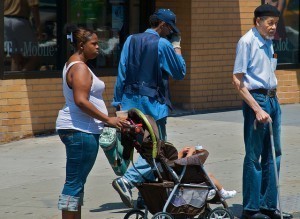 Sometimes, the strollers are also utilized as feeding chairs in place of booster seats. With the versatility of baby strollers, parents are given several uses for these proving to be a great help in taking care of the baby.
Sizes of Baby Strollers
Before you can consider the sizes of baby strollers, you first have to decide which type of stroller you will be needing. If you will be needing one for just one baby, then you can check out single strollers.
Now if you have twins, what you want is a double stroller which can hold both your babies at the same time. This will ensure that you can keep an eye on both of them at all times and also do away with the trouble of managing two separate strollers at the same time.
Single Strollers
Sizes of baby strollers for a single rider are usually around 40 inches in length by 27 inches in height by 15.8 inches in width. These dimensions can support babies who weight up to 40 pounds.
For strollers that can support weights up to 35 pounds, you can find sizes of baby strollers in measurements of 18.25 inches in height by 12 inches in width by 33.5 inches in length. Dimensions are specified for folded-up strollers.
Double Strollers
Sizes of double strollers depend on the style. There are Tandem Strollers and Side-by-Side Double Strollers.
Tandem Strollers
With these strollers, the babies sit one behind the other. Sizes of baby strollers for this type are usually around 52 inches in length by 40.2 inches in height by 25.5 inches in width.
When folded, the dimensions are 42 inches long by 25 inches high by 24 inches wide. This stroller size can support babies weighing up to 55 pounds each.
Side-by-Side Double Strollers
For this type of stroller, the babies are seated next to each other, in their separate "compartments." Sizes of baby strollers for this model are approximately 39.2 inches long by 33.2 inches high by 29.8 inches wide.
Most parents who are taking care of two babies usually opt for this type of double stroller as this allows them to monitor the babies more easily, keeping them in full view.
In addition, the babies can play together in their strollers whereas the other type of double stroller keeps the babies out of each other's plain view .