Mist humidifiers balance the humidity level in your home, especially your children's bedrooms to help relieve colds, clogged and runny nose, help them breathe easily and also prevent seasonal allergies.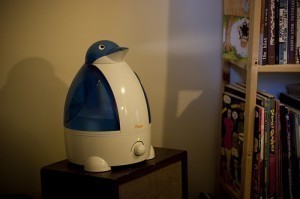 When choosing mist humidifiers, parents are usually torn between getting a cold mist humidifier or a warm mist model. Fortunately, there are now mist humidifiers that have both cold and warm mist options.
Size of Mist Humidifiers
The size of mist humidifiers is usually compact that you can fit them in any room of any size. The size of mist humidifiers also usually can humidify rooms that are at the very least 650 square feet in size.
Size of mist humidifiers that is of the smaller model is generally around 11 inches in length by 9.5 inches in width by 14 inches in height. The weight is around 8.8 pounds when empty.
This size can typically hold up to 3.5 gallons of water, giving you up to 24 hours of continuous use.
There is also the tower-type mist humidifier. For the size of mist humidifiers of this model, this is approximately 26.5 inches in length by 14.25 inches in height by 9 inches in width.
This size of mist humidifiers can generally hold up to 6 gallons of water.
Character-Shaped Mist Humidifiers
Character-shaped mist humidifiers are ideal for your children's bedrooms as they not only enhance the décor of your child's bedroom; they also look attractive to the kids.
These character-shaped mist humidifiers usually come in popular kids' characters as well as animal shapes. They come in a variety of colors helping you pick one that will blend well with the theme or motif of your child's bedroom.
For these mist humidifiers, the sizes are generally around seven inches in length by nine and three-fourths inches in width by twelve inches in height.
There are also slightly bigger models and these typically have dimensions of ten and three-fourths inches in length by eight and three-fourths inches in width by eleven inches in height.
Other Considerations
Apart from deciding which size and type of mist humidifier you are going to get, another factor to consider before purchasing your humidifier is the noise level.
This is an especially important consideration if you will be using the humidifiers in your children's bedrooms since you do not want a noisy humidifier waking them up in the middle of the night or worse, keeping them awake for the entire night.
Fortunately, most humidifiers these days run without making any noise at all – your children won't notice that these are even turned on.