Choosing the right gun safe size is essential for keeping your firearms secure.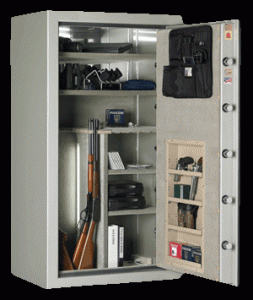 Aside from the size, the security features of the safe have to be considered as well.
Gun Safe Dimensions
For small firearms, any small or medium sized safe will be sufficient. For rifles, you'll need one that has an interior of 58" with a weight of 750 lbs. You can get good ones for around $1,300 to $1,500. This is good for 30 rifles. It will also have room for small firearms. They usually have a rotary side out and slide out drawers too.
The 58" height is the lowest recommended for 52" rifles. Most safes have a width of 36" and this should be sufficient for a dozen long rifles. This space is good enough for a 16 gun rotary rack.
Weight Considerations
Gun safe size aside, the weight also matters. The heavier the safe, the more secure it is. Weight ranges from 295 lbs up to 2000 lbs. The problems with multi ton gun safes is putting them in place. You'll need a professional to install it, which costs more money. For the typical gun safe collector, a 750 lb safe remains the good choice.
Security Features
Gun safes today come with a variety of features. For the best protection, look for those with an 8 gauge or heavier wall. There should be a composite door with relocker features. External hinges should be present as well as a mechanical UL Group II Lock. Aside from an adequate gun safe size, it should come with standard dial or UL Type 1 electronic lock.
The interior should allow room for scoped guns. If not, there should be a rotary gun rack for scoped rifles or ARs. The insulator should be internal. The safe should have reinforced sheet rock and expanding door seals.
If you have handguns, slide out drawers are recommended. The finish should be resistant to rust. Additional features include a LED light or lamps.
Buying Considerations
Start by looking at the sizes available. Small ones can measure 59 1/8" H x 17 1/2" W x 17 3/4" D (exterior), 56" H x 15 1/4" W x 12 1/2" (interior) and weigh 300 lbs. Larger gun safe sizes measure 59 1/4" H x 30" W x 24" D (exterior), 56" H x 27 1/2" W x 18" D (interior) and weigh up to 680 to 750 lbs.
Buy a safe than can store more that the guns you currently have. Your collection will increase, so get a safe that can serve for many years to come. You can also use the gun safe to store documents and other important possessions.
Read the fire print on so-called fire proof safes'; only get those with sheet rock. Of course you should compare the many types of gun safes around. Never buy gun safes without the UL RSC rating.
There is more to choosing safes than just looking at the gun safe size. Assess all of its security features. If you're going to store your valuables in it, do not scrimp on the costs.