A treadmill is a type of exercise equipment that allow you to run or walk at different paces and angles of inclination while staying indoors – in your own home or at the gym.
This means that you can walk or run the actual distance that you like and at an inclined angle of your choice without actually having to step outside. When choosing the size of a treadmill, you have to consider the space where you will be putting your workout machine.
Size of a Treadmill
To help you decide which size of a treadmill is ideal for your workout space, check out the specs provided below. This will give you a basic idea of how much space you need for your treadmill plus enough workout room for you to move comfortably about.
You should likewise consider belt dimensions when choosing the size of a treadmill that is ideal for you. The dimensions of the belt are also important as you want to be as comfortable as possible while doing your workout.
Since the belt will provide you with the support that you need while running or walking at different paces and angles, you want to make sure that the belt is of the right width and length suitable for your body type.
As for the treadmill size, you can find these in dimensions of 1935 millimeters in length by 850 millimeters in width by 1300 millimeters in height. Some manufacturers may have similar dimensions but these are indicated in centimeters.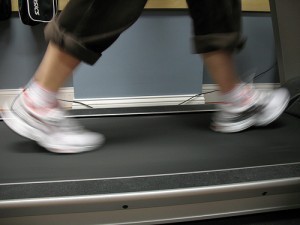 For the above-given size, this is equivalent to 193.5 centimeters long by 85 centimeters wide by 130 centimeters high.
There is also a size of a treadmill that comes in dimensions of 147 centimeters in length by 71 centimeters in width by 29 centimeters in height. You can see that this is relatively smaller than the previously given dimensions.
This means that even for a small workout space, you can find a size of a treadmill that will fit perfectly into your allotted space.
Treadmill Belt Sizes
As for treadmill belt sizes, these may come in measurements of 500 millimeters in width by 2825 millimeters in length. In centimeters, this size is equivalent to 50 centimeters wide by 282.5 centimeters long.
Other belt sizes also include 40 centimeters in width by 105 centimeters in length. If you wish for a relatively shorter treadmill belt but is wider than the two given above,, there are belts that measure approximately 152 centimeters long by 52 centimeters wide.
These treadmill sizes can generally support user weights ranging between a maximum of 150 up to 200 kilograms.