A spatula is used for spreading various soft food materials. These are staples in kitchens, and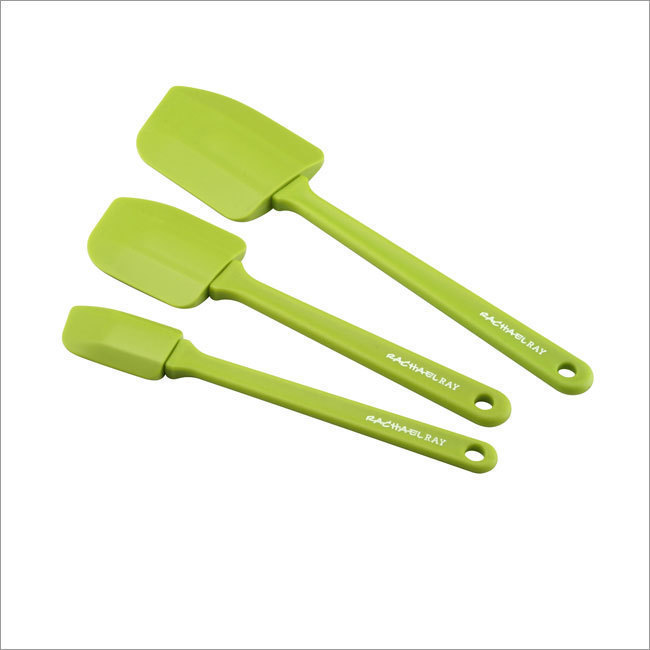 they are available in various sizes and shapes. Many of them are sold in sets.
Spatula Dimensions: Wilton Easy Flex 3-Piece Silicone Spatula Set
The spatulas in this set measure 0.7 x 7.2 x 12 inches. The set has three spatulas, all flexible. The color is a transparent blue and comes with crystal like handles. There are holes on the spatulas so they can be hanged up after use.
The spatulas can resist heat up to 500 F. They are also resistant to odor and stain. They can be hand washed or cleaned in a dishwasher. Because it is odor and stain resistant, the spatulas can be used for various cooking chores.
The tools are also useful for scraping food from mixing bowls. The handles are smooth, and the round shape makes them very comfortable to hold.
Spatula Dimensions: MIU France Turner
The MIU France turner measures 14 x 3 x 4 inches. This is a matte stainless steel turner, which makes it durable. The MIU France turner is useful for lifting fish, steaks or hamburger patties from the grill.
They can also be used for serving various food grilled onions, casseroles and enchiladas. The tool has a polypropylene texture grip, so it does not slip. The tool is safe to use in dishwasher.
The tools are also resistant to stain and come with a robust handle. The tool also has a good weight and it is long. The length is ideal for those who want to work with large pans.
Spatula Dimensions: MIU 4-Piece Silicone Set
The MIU 4-Piece Silicone Set has four spatulas, each 10 inches long. Each is resistant to heat up to 650 F and they have polypropylene handles. They are safe to use in a dishwasher and are resistant to stain.
The silicone spatula is not just heat resistant, but designed to work seamlessly during cooking. These spatulas are also available in various sizes, with the smaller ones ideal for cupcakes.
They can also be used for cookies, batter and other food. They can be used for getting batter, stirring muffins, waffle and pancakes.
Spatula Dimensions: Oxo Good Grips Silicone Flexible Turner
The Oxo Good Grips Silicone Flexible Turner measures 3 x 1.2 x 11.2 inches. It combines the durability of stainless steel and has silicone properties too. The silicone outer layer can withstand heat up to 600 F. It may be used for nonstick cookware.
It is joined to flexible stainless steel to make it more durable. The tools also have flexible edges so they can glide under food easily. This design allows them to turn over delicate food without destroying them. The tool has a nonslip handle that is comfortable to hold.
When you start cooking, it is essential that you get familiar with the various spatula dimensions. As you gain experience you will need various sizes. For this reason, it is best if you get spatulas of various sizes.