A scraper has several possible uses in the kitchen. As the following products show,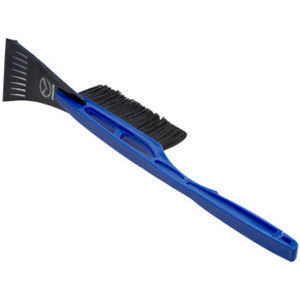 their use can range from scraping dough to making measurements.
Scraper Dimensions: OXO Good Grips Pastry Scraper
The OXO Good Grips scraper measures 6.2 x 4 x 1.8 inches. The scraper is made mainly for scraping split bread dough. However it can also be used for other tasks like crushing and chopping.
Inch measurements are provided for on the blade. The measurements are carved in, so it does not wear off. This is very useful when determining dough thickness.
It can also be used to tidy up the countertop. It is also useful for cutting pastry and cookies. The OXO Good Grips is made of stainless steel. It has a rubber handle for comfortable and no slip grip. The scraper is safe to clean in a dishwasher.
Scraper Dimensions: MIU France
The MIU France scraper measures 6.5 x 5 x 1.5 inches. It is a one piece scraper built to last. The handle is polypropylene and ergonomically designed. The texture of the handle ensures it is safe to grip and hold.
The handles are sanitized and have antimicrobial properties to keep germs away. The scraper can be cleaned in a dishwasher. The blade does not bend and can be used to slice through various food including (but not limited to) frozen butter.
The MIU France scrape can also be used to clean off flour and create bread. The scraper can be utilized to gather food from pans and other baking purposes. The scraper can be used by both professional bakers and the casual cook.
Scraper Dimensions: iSi North America Silicone Scraper Spatula
The iSi North America Silicone scraper spatula measures 6 x 0.2 x 4 inches. It has a flexible shape that fits snugly in the palm of the hand. It is nonslip even when wet.
It sports a wide curved edge. This can be used to clean bowls and other containers. The flat edge is best for removing dough off the cutting boards.
The iSi North America silicone scraper can also remove dough from spoons and batters too. The scraper is heat resistant up to 600 degrees F. This lets you use it to scrape off pans.
Scraper Dimensions: Winware Stainless Steel Dough Scraper
The Winware scraper measures 5 x 4.8 x 1.5 inches. This is a dough scraper fitted with a metal blade to allow for scraping, cleaning dough and lifting.
The scraper can be cleaned in a dishwasher. Aside from scraping up dough, the Winware can also be used for scooping up stuff on your chopping board. Bread crumbs can also be collected using this tool.
The scraper can gather foodstuff on floured surfaces as well. Aside from removing sticky dough, many other sticky substances can be scraped off with ease. The tool can also be used when making cookies and other recipes.
Although the scraper dimensions vary, they all share something in common. That is, they can be used for a variety of tasks, making them fine additions to any kitchen.